Weekly Finnish Hockey round-up by Aatami Mäkinen.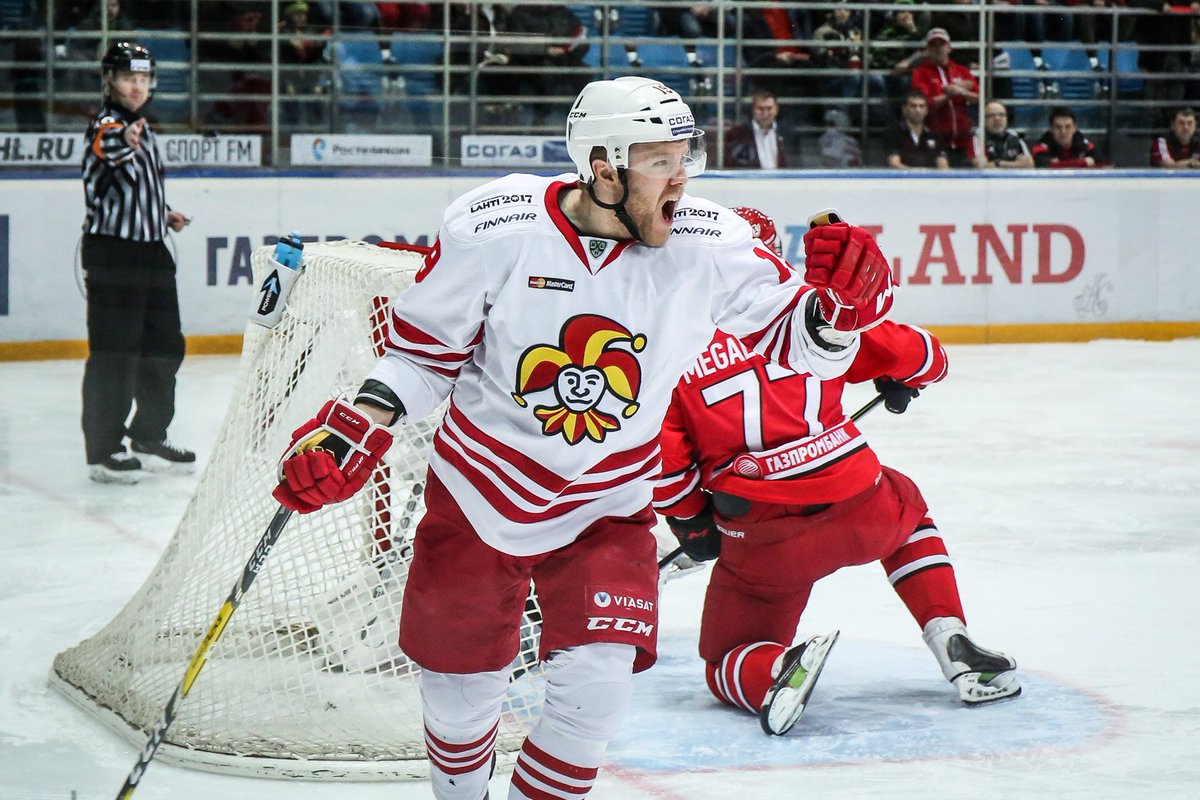 KHL
Jokerit rounded out their latest series of home games with another frustrating loss, this time to Dinamo Minsk. However, as soon as the Helsinki-based side went on the road, they suddenly found their winning habit. Last Wednesday saw them beat Barys Astana 2-0 in Kazakhstan before wins at Ugra (3-2) and Avtomobilist (3-1). With just two games to go Jokerit's chances of a playoff berth look much stronger than they did a week ago. They are still in eighth place in the Western Conference but crucially are now on 91 points, six clear of Sochi who are the only team mathematically capable of catching them. However the Black Sea club do have two games in hand and therefore its not a done deal yet. Jokerit's two remaining games are both at home against Tatarstan sides Neftekhimik and Ak Bars Kazan. One win should be enough to see them into the post season, but it will be tough against Ak Bars, meaning there is a lot riding on their next game against Neftekhimik to get the job done.
SM liiga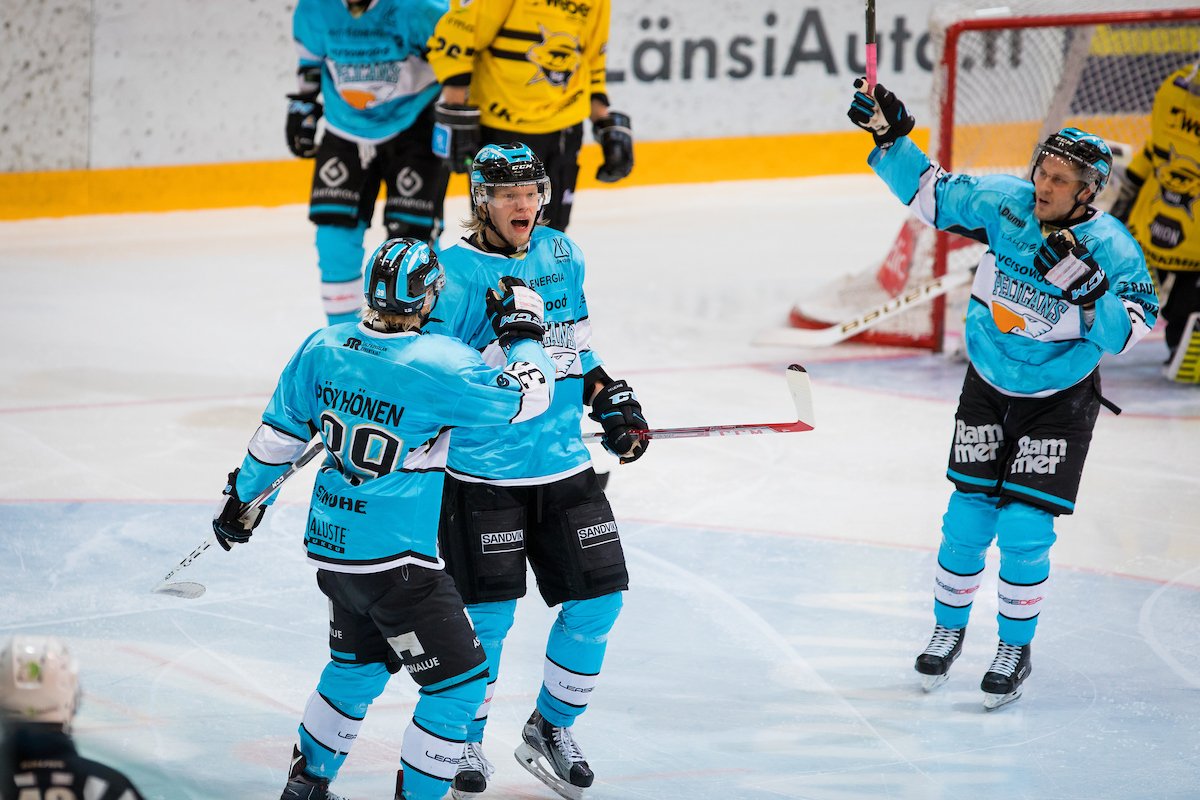 Pelicans –
Were on the road on Tuesday when they visited KooKoo. Juha-Pekka Haataja gave the side from Kouvola an early lead, but Vili Sopanen tied the contest just 42 seconds later. Surprisingly there were no more goals in the game until 2:38 into overtime. Olli Korhonen hitting the winner for the home side.
On Thursday they travelled to Lappeenranta and came away with a thrilling 6-4 victory. They didn't have it easy though, and had to come from behind on three separate occasions to get the win. Brock Trotter opened the scoring for the home side at 3:35, but their first lead would last just over a minute. Roope Elimaki finishing a pass from Kimi Koivisto and Miro Hovinen to get the Pelicans back level. The goals continued to come thick and fast though, and Tero Koskiranta had SaiPa back ahead at 9:35, before Vili Sopanen levelled once again for the Pelicans. Antti Erkinjunti then gave the visitors their first lead of the game at 26:22, but SaiPa responded less than two minutes later Saku Salminen scoring.
Koskiranta then scored his second of the game to give the hosts a 4-3 lead less than five minutes later, but the sides would go into the second break level at 4-4 when Erkinjunti grabbed his second of the night with 17 seconds to go.
The third period was less than two minutes old when Sopanen scored his seconds of the night to give Pelicans the lead once more. He would later go on to complete his hat-trick with 40 seconds left in the contest. It truly was a crazy game with Sopanen scoring a hatrick and Erkinjunti scoring twice, and getting an assist.
Pelicans had a difficult night's work with SaiPa on Saturday. Curtis Hamilton and Matti Jarvinen had given the Lappeenranta-based side a two goal lead which they held for almost half the game. Mikko Kousa then scored a short-handed goal while Ben Blood was serving a penalty, to bring Pelicans back into the game, but Jarvinen restored SaiPa's two goal advantage soon after. Juha Leimu scored a second Pelicans goal less than a minute after to set up a close finish, but they were unable to force an equaliser.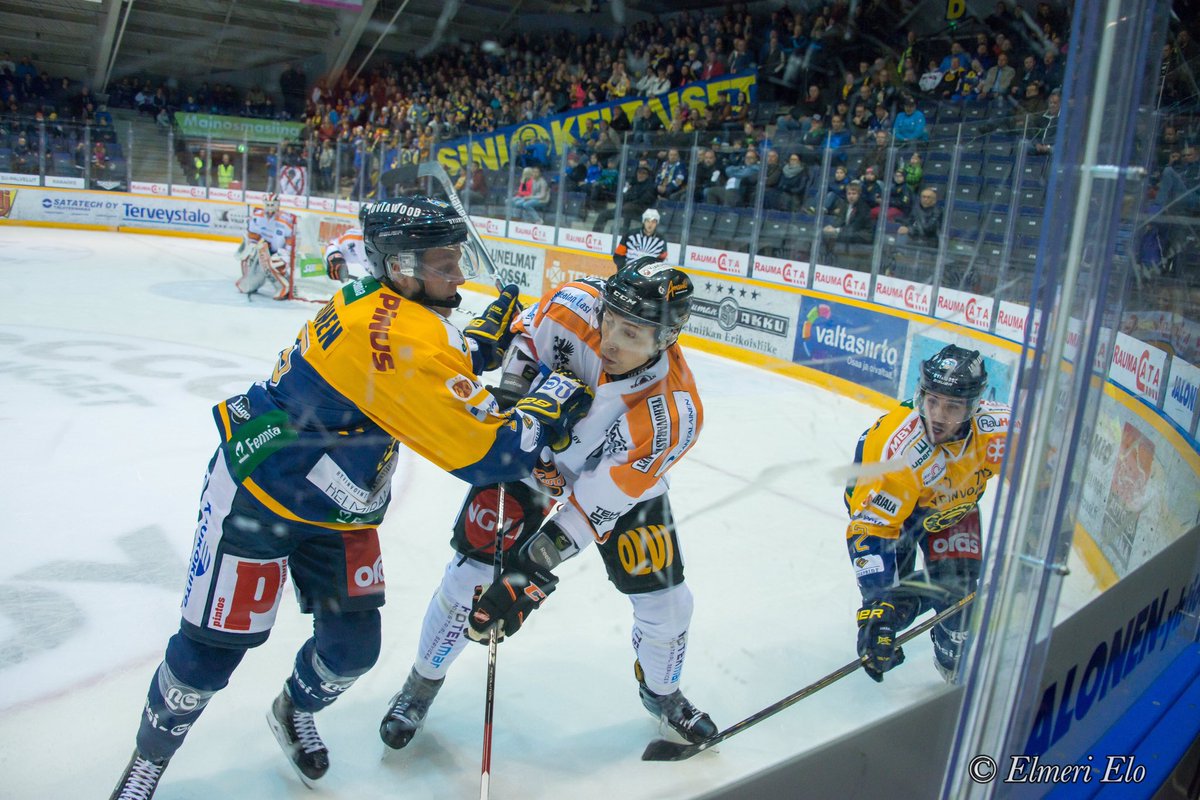 Lukko -
shocked the league leaders with a thrilling 5-3 victory in Rauma, despite being two goals down at the end of the first period. Tappara went ahead after a double strike from Sebastian Repo, but just four minutes after the restart Toni Koivisto pulled one back for the home side. Then, as the second period was drawing to a close, two goals 33 seconds apart from Janne Niskala and Sami Lahteenmaki have Lukko a 3-2 lead. That seemed to wake-up the champions-elect, who responded after the second break with a goal from Otto Rauhala to draw the sides level. If Tappara thought they had done the hard work, in getting back onto level terms they were mistaken.
Jesse Virtanen hit the game winner for Lukko at six minutes later, and as Dominik Hrachovina was pulled for the extra attacker, Aleksi Saarela was able to kill the game with an empty netter with 21 seconds to go.
On Friday, Lukko travelled to Jyvaskyla to take on JYP, but were unable to bring the points back home with them. Juusi Vainio and Mikko Kalteva scored for JYP, while Peter Tivola reduced the deficit with just over four minutes to play.
The following evening Lukko were back to their best, taking down one of the giants of the game. HIFK have not been at their best in recent weeks and now is probably the best time to visit Helsinki to play them. Amazingly Saku Salmela and Roope Hintz had given the home side the best possible start, but just like with Tappara, earlier in the week Lukko came roaring back from being two goals down early on. Janne Niskala got them back in the contest five minutes after Hintz's goal and before the period was over Rony Ahonen had the teams level. The game looked like heading into overtime, but Lukko were not finished yet. Peter Tiivola gave his side the lead with just under two minutes left. That in turn forced HIFK to pull goaltender, Kevin Lankinen, and just 12 seconds later Niskala got his second when he shot into the empty net and completing a remarkable week for a team battling to avoid bottom spot come the end of the season.
That win took Lukko off the foot of the table, with SaiPa taking their place. They are a point ahead of the side from Lappeenranta having played a game more, but also just a point behind KooKoo and a further two back on Ilves and three from Jukurit in Eleventh.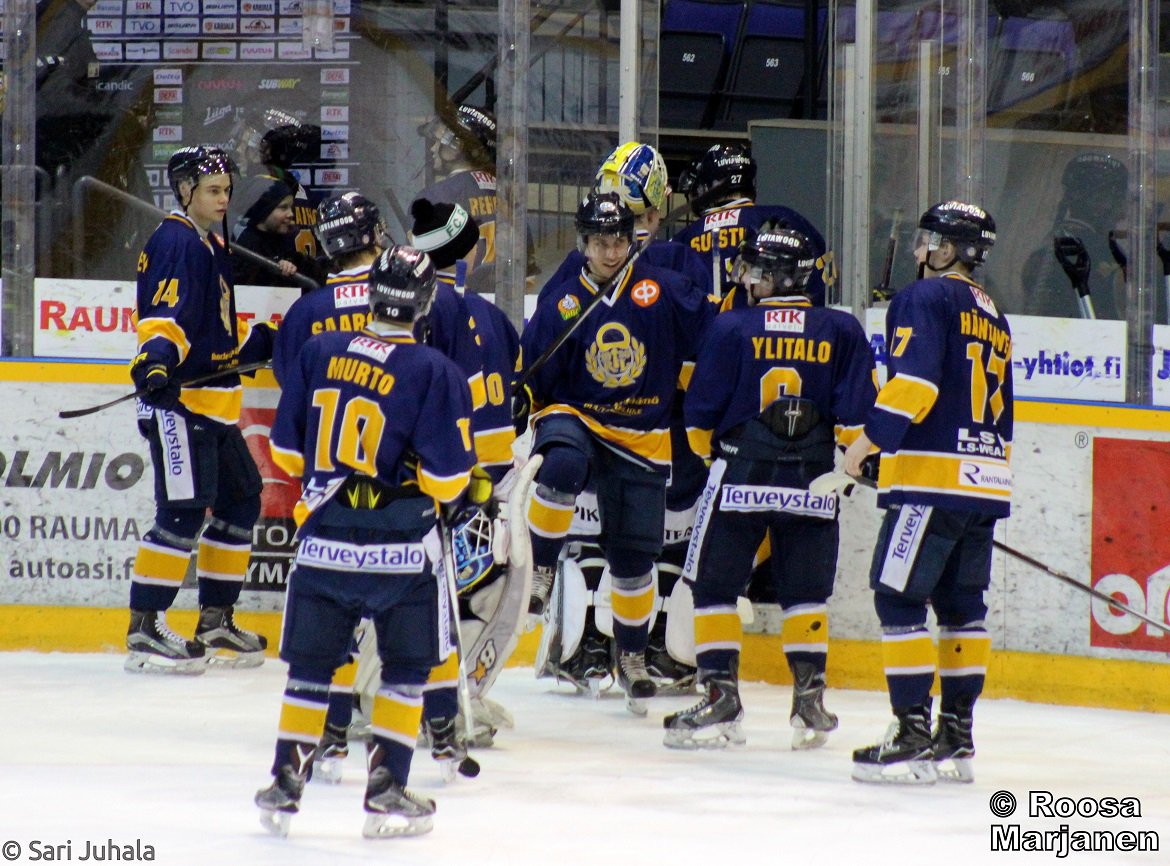 Tappara – Still have a nine point lead at the top despite losing twice during the week. After their shock defeat to Lukko, Tappara got back to winning ways on Friday when they put five goals past another struggling side, KooKoo. Sebastian Repo, Juhani Jasu, Otto Rauhala, Joona Luoto and Henrik Haspala each scored for the league leaders.
Tappara lost their second game of the week on Saturday, when Sport Vaasa came away with a 5-4 win in Tampere.
Otto Rauhala gave the leaders an early breakthrough, but goals from Filip Riska and a double from Ville Viitaluoma gave Sport a 3-1 lead. Rauhala pulled one back for Tappara, before Jukka Peltola tied the game at 51:48, but there was further late drama when Joel Kiviranta game Sport a 4-3 lead with just two minutes to go. Tappara were now getting desperate and pulled goalie Teemu Lassila for the extra attacker. The move paid off as 30 seconds later they were level again. Veli-Matti Savinainen netting with just 48 seconds to go. The teams failed to find the net during the overtime period, so it was left to Tommi Tikka to hit the only penalty during the shoot-out.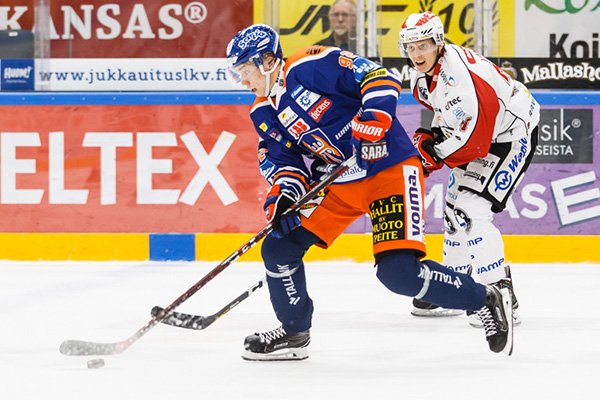 KalPa – Recovered from going two goals down against HIFK to round out 6-3 winners. Lennart Petrell and Miihkali Teppo had spotted the Helsinki club a 2-0 lead but four unanswered goals turned the contest in KalPa's favour. Henri Knuutinen, Matias Myttynen, Alexander Ruuttu and Eetu Luostarinen all found the net for the Kuopio-based side. Arttu Luttinen pulled one back for HIFK with just over two minutes of the game remaining to give KalPa a nervy finish, but as the visitors pushed for the equaliser they left themselves exposed at the back and Tommi Jokinen and Jussi Timonen were able to make the game safe.
Ilves did their cross-city rivals Tappara a favour on Thursday, when they beat title challengers, KalPa. The team from Tampere had to twice come from behind to beat them though as Alexander Ruuttu and Matias Myttynen scored. Jerry D'Amigo had found the net for Ilves inbetween those goals, while Tapio Laakso scored at 54:53 to tie the game for a second time. Ilves then hit the winner in overtime through Otto Koivula.
With Tappara slipping up once again, KalPa were looking to capitalise with the visit of Jukurit. Juuso Riikola opened the scoring late in the opening period, but the visitors looked to have severly dented their host's title aspirations. Teemu Suhonen, Janne Ritamaki and Henrik Koivisto scoring either side of the second intermission to give Jukurit a 3-1 lead. KalPa suddenly woke up and hit back with markers from Tommi Jokinen and Joonas Lyytinen. That took the game into overtime, but with no further goals the teams head for a shoot-out. Janne Keranen hitting the only successful shot to keep his team's championship chances alive. The team from Kuopio are now third after TPS moved above them on goal difference.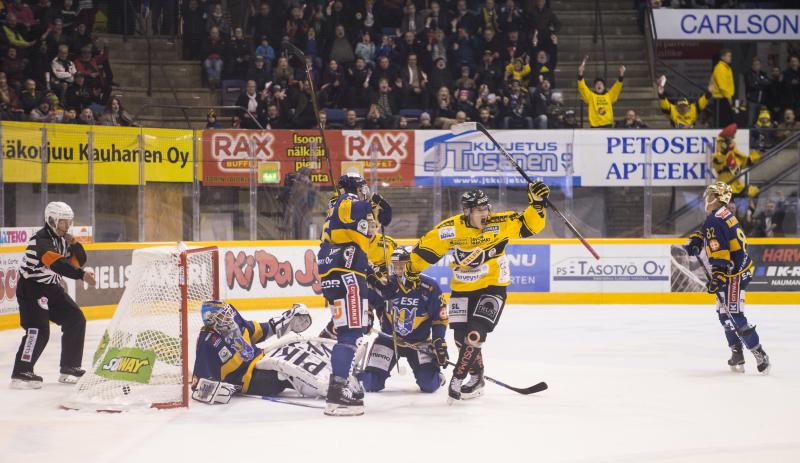 TPS - TPS eased to a 4-1 win over Ilves in Turku on Tuesday. Harri Tikkanen scored twice, while there were also markers for Martin Berger and Julius Vahatalo. Niko Ahoniemi got the Tampere-based side's only goal to cut the score to 2-1 at the time, but TPS continued to push and were rewarded with their four goal haul.
Henrik Tallinder and Tomi Kallio scored to set TPS on their way to victory in Vaasa on Thursday. The latter's goal arriving at 59:05, seemed to have the game secured, but Ville Viitaluoma scored just 13 seconds later to set up a tense finish. TPS held on though and closed the gap to seconds placed KalPa.
After clawing their way back into title contention in recent weeks, TPS were surprisingly hammered on home ice to the in-form JYP. The Jyvaskyla-based side had seen off a spirited Lukko side the previous evening and followed it up with a dismantling of the team from Turku, Finland's Third City. Jani Tuppurainen, Anssi Lofman and Antti Suomela had giving JYP a 3-0 lead by 11:07 to take early control of the game. Jasper Lindsten pulled one back for the hosts a couple of minutes later, but any hopes of a comeback seemed to evaporate as they ran into penalty trouble. Dave Spina was given a misconduct penalty and any momentum they were hoping to build up, fell away. Juha-Pekka Hytonen got JYP's fourth at 43:25 and Lofman grabbed his second of the game with 25 seconds left to complete the scoring. TPS are now level on points with KalPa but move up to second having achieved a better goal difference.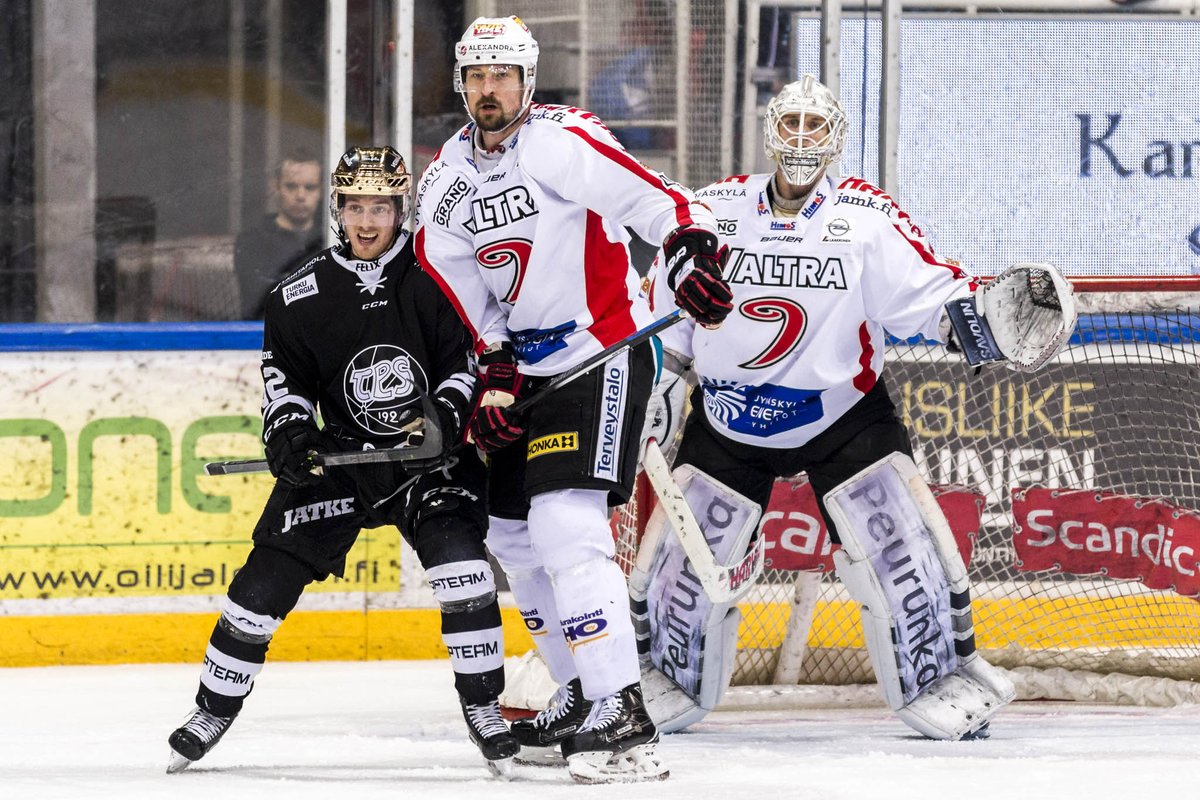 HIFK - Were involved a ten goal thriller but ended up losing to Karpat, despite teice taking the elad. Miro Heiskanen and Roppe Hintz each scored to give the capital city club the elad within the first five minutes of the game, but on each occasion the visitors hit back through Saku Maenalanen. John Albert then gave Karpat their first lead of the game with barely ten minutes on the clock, but Joonas Rask tied the game for HIFK. Karpat stepped things up after that though, and Mikko Lehtonen and Ville Leskinen both netted to give their side a game-winning lead. Arttu Luttinen did pull one back for HIFK but Mika Pyorala made the game safe with an empty netter 19 seconds from time.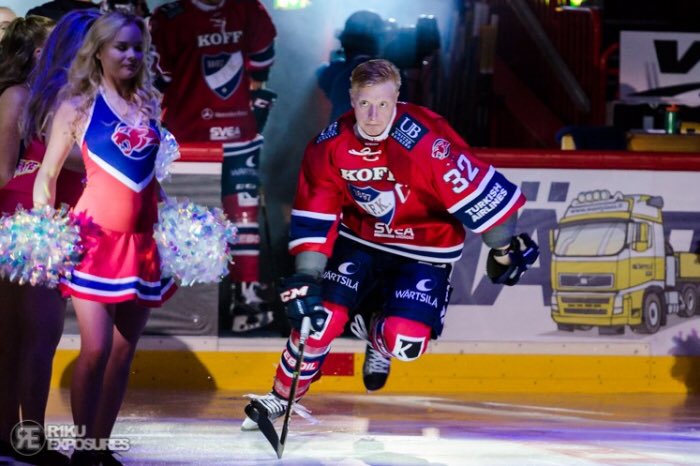 HPK – Otto Paajanen opened the scoring at 26:57 to give HPK the lead in Oulu. However, Miska Humaloja and Aleksi Makela both scored before the second intermission to turn the game in the hosts favour. HPK had other ideas though, and tied the game at 47:50 through Oskari Manninen. Any thoughts the side from Hameenlinna had of getting something from the game were dashed though, when they fell apart soon after, conceding three goals during a five minute span. John Albert, Mika Pyorala and Antti Kalapudas each found the net between 50:16 and 55:16. Mathias Porseland netted a consolation for the visitors with 87 seconds to go.
Against KooKoo, HPK eased to a win on Saturday. Miro Ruokonen, Mathias Porseland and Juho Keranen all scoring.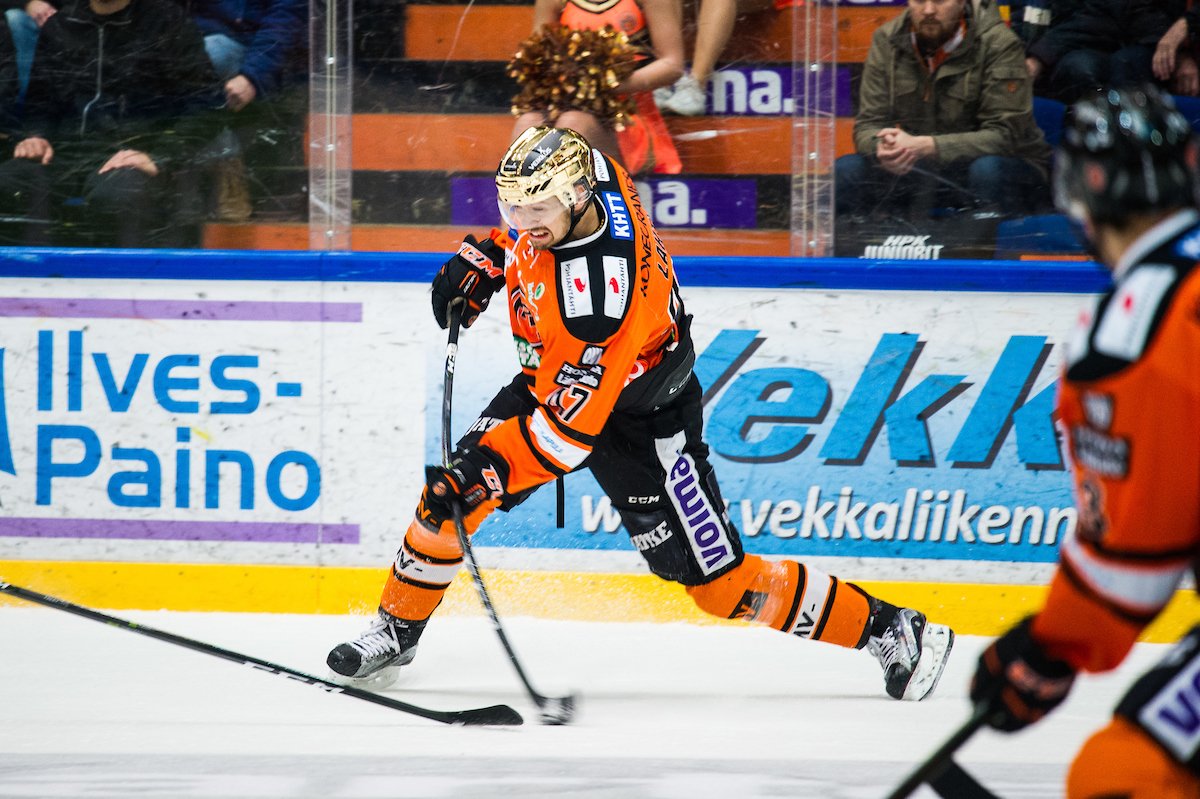 Elsewhere around the league
Assat were far too strong for Jukurit in Mikkeli on Thursday beating their host 3-1. Matti Kuparinen and Jarno Karki had given the visitors a two goal lead which set them on their way. Turo Asplund pulled one back for Jukurit with five minutes to go, but with Sami Rajaniemi off the ice for the extra skater it was left to Ville Korhonen to slot home into the empty net to ice the game.
Karpat came from two goals down to beat Assat in a shoot-out on Saturday. Maksim Matushkin and Matias Varttinen had the visitors leading 2-0 by 22:28. However less than six minutes later the teams were level, when Ville Leskinen and Shaun Heshka netted. With that the scoring was complete and the contest was only settled during the fourth round of the shoot-out when Toni Kahkonen scored for Karpat and Jarno Karki missed for Assat.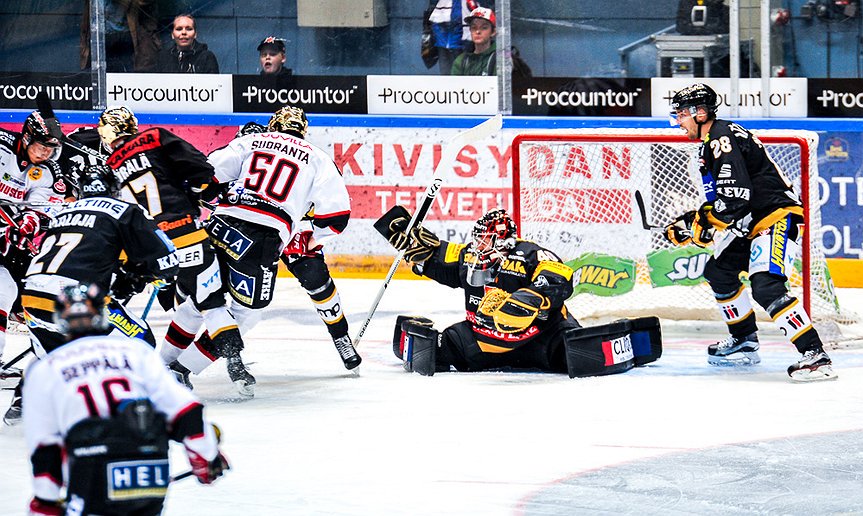 Tuesday, January 31
KalPa v HIFK 6-3
KooKoo v Pelicans 2-1
Karpat v HPK 5-3
Lukko v Tappara 5-3
TPS v Ilves 4-1
Thursday, February 02
Ilves v KalPa 3-2
Jukurit v Assat 1-3
SaiPa v Pelicans 4-6
Sport v TPS 1-2
Friday, February 03
HIFK v Karpat 4-6
JYP v Lukko 2-1
KooKoo v Tappara 0-5
Saturday, February 04
TPS v JYP 1-5
HIFK v Lukko 2-4
HPK v KooKoo 3-0
KalPa v Jukurit 4-3
Karpat v Assat 3-2
Pelicans v SaiPa 2-3
Tappara v Sport 4-5
Mestis
SaPKo stay top after winning their only game last week at home to inform Hermes. The Savonlinna-based side are now just four points ahead of TUTO, after the team from Turku recorded two wins over Hermes and IPK, hitting twelve goals in the process.
Despite those two defeats, Hermes stay in third place as the Kokkola based-team did manage to get a win in Joensuu over Jokipojat.
K-Vantaa stay in fourth after suffering two disappointing defeats themselves. Losing away to RoKi and Hokki was frustrating for the Helsinki-region side after they started the week with an 8-5 win at home over Peliitat.
KeuPa HT who are based in the town of Keuruu are sitting in fifth place right now after two big wins and scoring ten goals in the process. KeuPa won 5-3 in Lempaala when they beat LeKi, then returned home on Friday to beat Hokki 5-1.
Elsehwere there were wins for IPK, RoKi and Peliitat, while on Saturday LeKi beat IPK at home and JYP Akatemia posted a huge 6-1 victory over RoKi.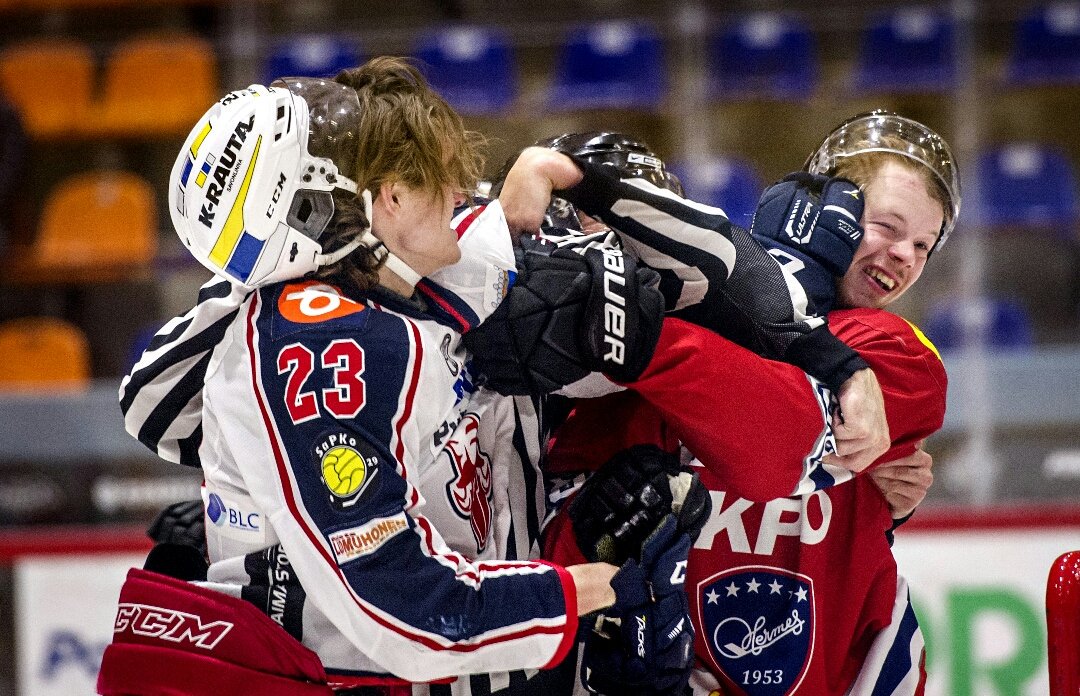 Wednesday, February 01
LeKi v KeuPa HT 3-5
IPK v JYP Akatemia 2-1
RoKi v Jokipojat 6-5
K-Vantaa v Peliitat 8-5
Hermes v TUTO 2-5
Friday, February 03
TUTO v IPK 7-1
RoKi v K-Vantaa 3-1
KeuPa HT v Hokki 5-1
Peliitat v Espoo United 1-0
SaPKo v Hermes 3-2
Saturday, February 04
LeKi v IPK 4-1
JYP Akatemia v RoKi 6-1
Jokipojat v Hermes 3-5
Hokki v K-Vantaa 5-2