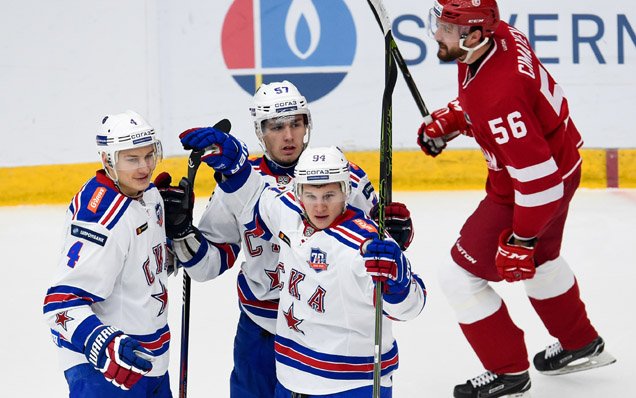 Game 1 - SKA v Vityaz 3-1 - Tuesday, February 21, 2017
Vityaz made its playoff debut away to red-hot favorite SKA, and ended up paying the penalty for giving the home team's power play too many opportunities.

With the Army Men's offensive power well known to anyone who has followed the KHL this season, it was obvious that Vityaz' first task would be to frustrate a roster stacked with talented forwards. For much of the first period, the visitor managed that fairly well, but it all went wrong in the last five minutes. Two penalties in quick succession undermined Vityaz' efforts: the first was killed, but almost immediately Igor Golovkov got a minor for slashing and this time SKA struck. Anton Belov was the scorer, with the defenseman flashing home a one-timer off Vadim Shipachyov's feed in the last minute of the opening stanza. Vityaz responded in the middle session, soaking up more SKA pressure before Alexander Nikulin led a lightning counter-attack that ended with Alexei Makeyev firing home the equalizer. But another penalty handed the initiative right back to the home team, and confusion among the four players left to defend the net saw the puck bounce into the path of Nikita Gusev for the 2-1 goal. Any hopes of a third-period fightback were quashed early on. Evgeny Dadonov picked up his second point of the night when his shot rattled the underside of the crossbar and dropped over the line. It took a video review to confirm the goal, but once SKA had a two-goal cushion it could hold Vityaz at arm's length until the hooter.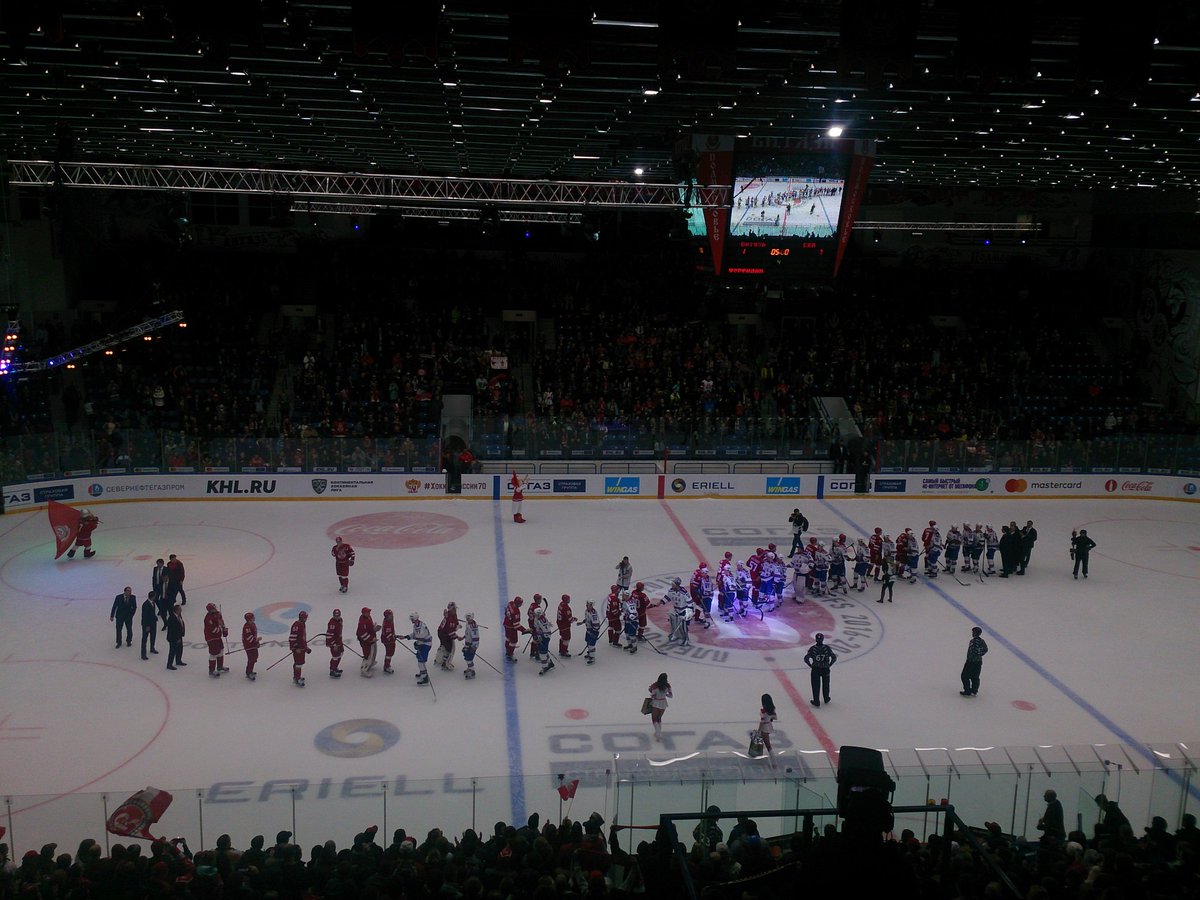 Game 2 - SKA v Vityaz 7-2 - Thursday, February 23, 2017
SKA proved far too strong for Vityaz as the Army Men celebrated Defenders of the Fatherland day with an emphatic playoff victory.

Evgeny Dadonov contributed two points once again, taking his post-season tally to two goals and two assist from two games. There were also two goals from Evgeny Ketov one goal and two assists for Patrik Hersley and a pair of assists from Anton Belov, who also scored in game one. SKA's offense was rampant from the start, eventually firing in 40 shots on the Vityaz net. Igor Saprykin faced 17 of those efforts in the first period, allowing two goals as Ketov and Dadonov put the home team in a comfortable position. That was enough to persuade Valery Belov to bring Harri Sateri back onto the ice at the first intermission, but with SKA outshooting Vityaz by 13-4, the Finn could do little to help his team. Ketov made it 3-0, Pavel Datsyuk got his stick on to Hersley's shot to add a fourth and Jarno Koskiranta turned in a Belov effort for 5-0. Artyom Shvets-Rogovoi pulled one goal back for Vityaz before the intermission, but the damage was done.
Hersley added a goal to his pair of assists in the 47th minute and, after Jakub Jerabek got a second for Vityaz, Ilya Kovalchuk rounded off the scoring with a power play goal off a Belov feed. With its offense in such irresistible form, it's hard to see how Vityaz can find a way back into this series, but the arrival of playoff hockey in Podolsk on Saturday will at least give Belov's team a chance to regroup in front of its own supporters.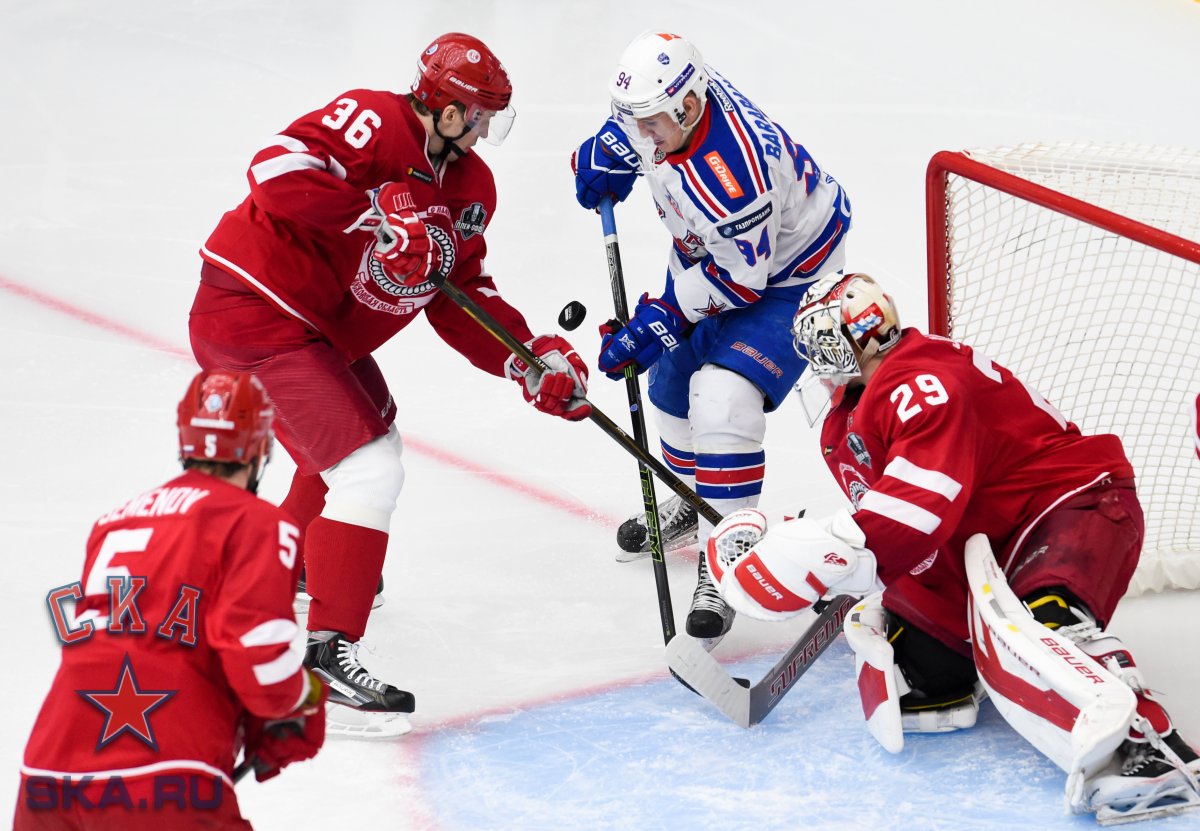 Game 3 - Vityaz v SKA 2-6 - Saturday, February 25, 2017
Vityaz hosted a KHL playoff game for the first time, but it was

Pavel Datsyuk

who enjoyed the party. The veteran SKA forward scored a beautiful goal and contributed two assists as the Army Men powered to a convincing victory.


SKA took control with a couple of power play goals. First, Datsyuk fed Patrik Hersley for a shot from the blue line and the Swedish D-man picked up his second goal in successive games. Then, early in the second period, another power play saw the same pair combine. This time, though, Hersley's shot took a deflection from Evgeny Ketov on its way into the net.
The game was increasingly fractious, and Vityaz pulled a goal back with the teams playing 4-on-3. Alexander Nikulin scored it, collecting Jakub Jerabek's pass to score from a tight angle. SKA, however, was in no mood to relinquish its grip on the game or the series. Quickfire goals from Roman Rukavishnikov and Nikita Gusev stretched the advantage before Datsyuk brought his bit of magic to the ice early in the third period. It was a self-made goal, intercepting a pass in center ice before advancing, dancing round Alexei Semenov and evading the attentions of Igor Golovkov before ripping a trademark backhand shot past Harri Sateri to make it 5-1. Alexei Kopeikin pulled one back for Vityaz in the closing stages, but the game was long gone. There was time for a third Vityaz goal to be ruled out by the video official in the last minute before Ilya Kovalchuk scored into the empty net to wrap up another convincing SKA victory. The teams meet again on Monday with Vityaz needing a victory to avoid being swept on its first KHL playoff appearance.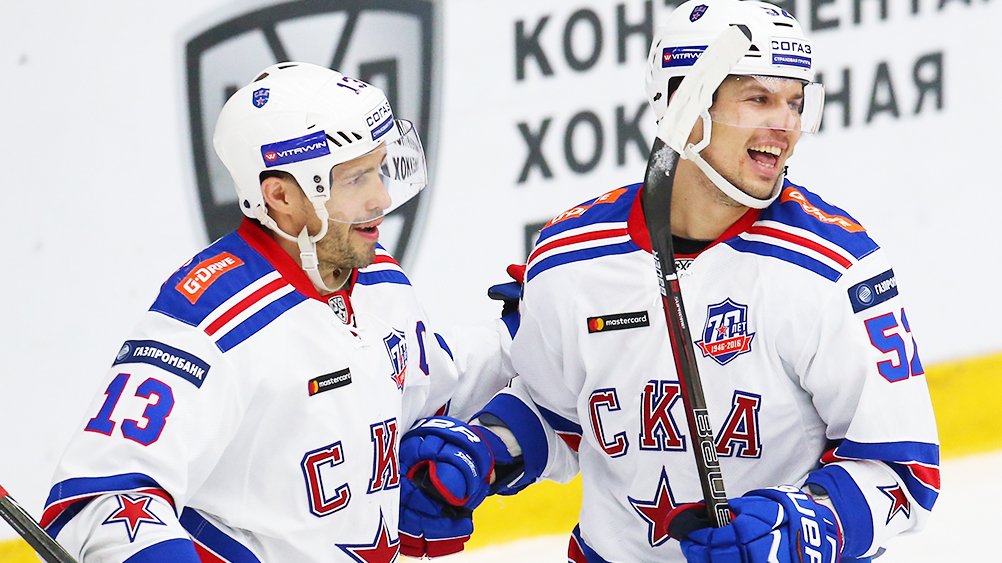 Game 4 - Vityaz v SKA 1-7 - Monday, February 27, 2017
SKA powered into the Conference semi-finals after a convincing victory in Podolsk completed a sweep over Vityaz. Not only did the Petersburg team deny Vityaz a single post-season victory, it did so in a manner that left little doubt as to where the balance of power lay. Not once could Vityaz argue it ran Oleg Znarok's team close in a series where the Army Men scored 23 goals and allowed just six at the other end.

Three first-period goals settled the outcome of this game, and with it, the series, as a thoroughly professional SKA performance left no room for any revival from the outsider.
Jarno Koskiranta opened the scoring in the fourth minute, converting an early power play when he got the decisive touch on a Patrik Hersley slap shot. Vityaz looked to respond immediately, but after Mario Kempe wasted a chance on a breakaway, SKA went straight up the ice and doubled the lead. Vadim Shipachyov, left out of the team on Saturday, got the goal after Nikita Gusev's charge turned defense into offense. Vityaz goalie Harri Sateri will be disappointed not to have reached a shot over his glove despite being screened when Shipachyov fired the puck. Soon after it was 3-0, Sergei Shirokov enjoying the extra space on another power play and scoring from close range. With the game effectively over inside nine minutes, SKA went on to extend its lead. Koskiranta got his second in the 27thminute, then Nikolai Prokhorkin got his first playoff goal of the season in the 32nd before Evgeny Dadonov wrapped it up with a power play goal in the final second of the middle session. The final stanza saw Alexei Makeyev pull a goal back for Vityaz but Dadonov had the final say with a last-minute goal to wrap up an emphatic victory. Vityaz' first look at the KHL playoffs is over; SKA can rest a week before beginning its Conference Semi-Final series on March 8.