As part of a new series I will be looking at some 'classic teams' from the past. They will include Stanley Cup winning teams, dynasties, NHL teams that were great to watch, Soviet teams and even my local side Whitley Warriors. The first team I am going to look at is the CSKA Moscow side from 1987-89. There were probably better teams than this throughout the Red Army's history, however none had such an illustrious list of names as this team. From the KLM line and the Green Unit to future NHL hall-of-famers and goal-scoring legends in the making, Sergei Fedorov, Pavel Bure and Alexander Mogilny. Not to mention this side had no less than 15 Stanley Cup winners between them.
9 Vladimir Krutov - [1987-89 Games Played 73 Points 83]
Владимир Евгеньевич Крутов
, nicknamed "The Tank" was considered one of the best hockey wingers of the 1980s. During his time with the

Soviet Union national team

, Krutov won the

1981 Canada Cup

, two golds (

1984

,

1988

) and one silver (

1980

) in the

Olympics

, and six golds (1981, 1982, 1983, 1986, 1989, 1990), one silver (1987), and one bronze (1985) in the

World Championships

. In the famous 1980 Olympic hockey game against the United States, dubbed the "

Miracle on Ice

," Krutov scored the Soviet's first goal to enable his team to take an early 1-0 lead.
8 Igor Larionov - [1987-89 Games Played 82 Points 84]
Игорь Николаевич Ларионов was
born in Voskresensk and was known as The Professor.
He began his career in the

Soviet League

with

Khimik Voskresensk

in 1977–78 and by 1980-81 he netted 45 points in 43 games, which grabbed the attention of

CSKA Moscow

and

Soviet team

coach

Viktor Tikhonov

. Tikhonov approached him before a game that season, inviting Larionov to play for him. He notched five assists that game, joined CSKA the following season as the top-line center between

Vladimir Krutov

and

Sergei Makarov

. The trio became known as the "KLM Line" and dominated both the Soviet League and international competition. They were joined by defensive pairing

Viacheslav Fetisov

and

Alexei Kasatonov

to form the five-man lineup known as the "Green Unit", so called for the green uniforms they wore during practice.
In

2000

, Larionov signed with the

Florida Panthers

, where he was re-united with Pavel Bure. Things didn't work out though, and Larionov was traded back to Detroit before the end of the season. He played his final year in the NHL with the

New Jersey Devils

in

2003–04

, where Viacheslav Fetisov was an assistant coach. He finished his career by playing two games for the Swedish team

Brunflo IK

in 2005–06, scoring one goal and three assists. On 17 June 2008 it was announced that Larionov would be inducted into the

Hockey Hall of Fame

as a player. He was also appointed to a three-year term on the Hall's selection committee on 31 March 2011, and in July 2008, was named director of hockey operations at SKA. Currently he works as a player agent in

Bloomfield Hills, Michigan

.
Larionov won two Olympic gold medals (

1984

,

1988

) and one bronze medal for

Russia

(

2002

). He won four golds at the

World Championships

, (

1982

,

1983

,

1986

,

1989

), one silver (

1987

), and one bronze (

1985

). He was an instrumental member of the Soviet team that won the

1981 Canada Cup

and was the first real glimpse of the KLM Line. He also played in the

1984

and

1987

editions of the tournaments, and played for Russia in the

1996 World Cup of Hockey

. Larionov,

Viacheslav Fetisov

,

Joe Sakic

, and

Scott Niedermayer

are the only four players in the world who have won Olympics Gold, World Championship Gold, a Stanley Cup (IIHF

Triple Gold Club

), Canada/World Cup, and World Junior Championship Gold.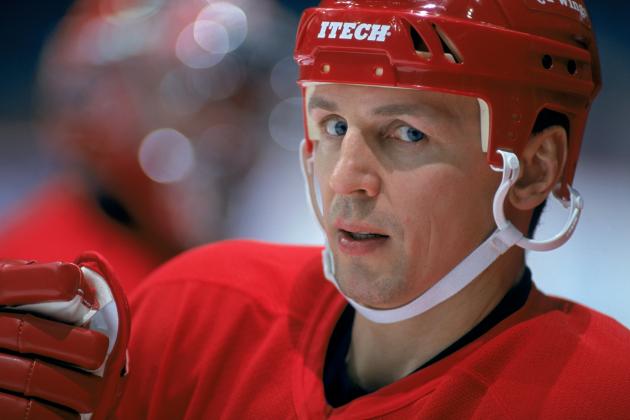 24 Sergei Makarov - [1987-89 Games Played 95 Points 122]
Серге́й Михайлович Макаров was
born in

Chelyabinsk

and
played on the gold-winning

Soviet national team

in the

World Championships

of

1978

,

1979

,

1981

,

1982

,

1983

,

1986

,

1989

and

1990

and in the

Canada Cup

in 1981. He won gold at the

1984

and

1988

Winter Olympics and a silver in

1980

as a member of the

USSR team

. Makarov scored the Soviet's second of three goals in the 'Miracle on Ice' game which, at the time, gave the Soviets a 2-1 lead.
In the 1996–97 season, Sergei made two comeback attempts, first with the

Dallas Stars

, for whom he played four games, followed by playing for

HC Fribourg-Gottéron

in Switzerland's

Nationalliga A

with former teammates

Viacheslav Bykov

and

Andrei Khomutov

. Like Larionov, Makarov now works as a certified player agent who acts as a liaison for young Russians wanting to play in North America. In 2001 Makarov was inducted into the

IIHF Hall of Fame

during the

Ice Hockey World Championship

in Germany.
13 Valeri Kamensky - LW [1987-89 Games Played 91 Points 74]
Kamensky started his career with home town team Khimik Voskresensk back in 1982, playing 70 games and bagging 16 points over three seasons. He would join CSKA in 1985 and spend the next six years there. During the 1987-88 season Kamensky netted 46 points in 51 games. His 26 goals that year was the most he would score in a season in the old Soviet League. With Russian players making the exodus to North America, Kamensky moved to the Quebec Nordiques in 1991 and would stay with the franchise during their re-location to Denver. During the lock-out shortened season of 1994-95 he played 12 games with Swiss side HC Ambri-Piotta. He would have four years in Quebec City before the team moved and were re-named the Colorado Avalanche. The team's first year in Denver saw the Avs win the Stanley Cup in 1996 and Kamensky scored 38 goals along the way. During his time there he would mainly play on a line with Peter Forsberg and Claude Lemieux. In 1999 Kamensky moved to the New York Rangers who were buying up every talented player under the sun at that stage but his two years at Madison Square Garden was very disappointing as the side missed out of the playoffs. The 2001-02 season was split between Dallas and New Jersey before Kamensky returned home to the Russian Super League and his first team in Voskresensk for his final two pro-seasons.
CSKA: 259 GP 202 pts NHL 637 GP 501 pts. Olympic Gold 1988. Stanley Cup 1996.
19 Vyacheslav Bykov - C [1987-89 Games Played 87 Points 83]
Bykov who is of Mari descent, began playing in 1979 and like Kamensky played his first three seasons with his home town team, Traktor Chelyabinsk. In 1982 the Center moved to CSKA and spent the next eight years there. Recording 285 goals in 335 appearances. In 1989 he was drafted by the Quebec Nordiques [9th Round 169 overall] but unlike Kamensky opted not to play in the NHL. Instead he moved to the Swiss league in 1990 and would spend the next decade there, having eight years in Fribourg and two in Lausanne, before retiring in 2000 and becoming a Swiss national in 2003. Bykov also won Olympic Gold in 1988 and 1992. Since his retirement from playing, Bykov has developed a great coaching career winning the KHL's Gargarin Cup with Salavat Yulaev Ufa in 2011 and SKA last season.
15 Andrei Khomutov - RW [1987-89 Games Played 92 Points 78]
Born in Yaroslavl, Khomutov made his debut with the Red Army team in 1980 and would stay there for the next 10 seasons, scoring 344 points in over 400 games. He formed a very effective partnership with Bykov that would see the pair re-unite in Switzerland and was named Soviet League MVP in 1990, his final year for CSKA. Both played for HC Fribourg-Gotteron between 1990-98 until Khomutov retired. He won Olympic Gold in 1984, 1988 and 1992 with the Soviet Union and was named head coach of Barys Astana in the KHL during the 2010-11 season as well as the Kazakhstan national team.
14 Alexander Mogilny - [1987-89 Games Played 70 Points 42]
Александр Геннадиевич Могильный was
born in Khabarovsk.
He was an off-wing sniper, in the classic Russian mould, with elusive skating ability, shiftiness, exceptional puck skills and an arsenal of shots. Mogilny joined CSKA Moscow in 1986 staying for three seasons [98 GP 58 Pts]. Under their hockey program, Mogilny developed elite skating and shooting capabilities to become one of the most talented Russian prospects to play in the NHL. He had explosive acceleration, which helped him generate numerous breakaways and the ability to blast through defenders. He possessed a strong combination of agility, balance as well an uncanny ability to be evasive in checks. A highly effective forechecker, he did not rely on physicality to generate turnovers but instead a combination of anticipation, excellent positioning and a swift stick to create takeaways. Mogilny was particularly adept at creating quick-strike offence from his right-wing. He preferred to rush in on his off-wing, make a quick deke into the slot and fire a quick wristshot through the 5-hole. If he was covered, Mogilny was more than capable of making crisp accurate passes to an open teammate off the rush to create an unpredictable offence. Although he was blessed with tremendous speed, Mogilny was also very skilled at slowing down his game to create half-ice offence because of his excellent hockey sense. He had outstanding on-ice awareness and was proficient in quarter-backing his team's offence from the half-boards. As his career progressed and injuries began to mount, he evolved into a cerebral play-maker to generate his offence. Mogilny has always been a strong two-way player thanks to a high level of hockey instincts and a tremendous sense of anticipation. His preferred move on a breakaway is a quick snapshot to catch the goalie off-guard.
Mogilny began the season playing with his former linemate from junior,
Pavel Bure
, on what was expected to be one of the NHL's premiere offensive combinations. Bure would miss almost the entire season with a torn ACL, but Mogilny found chemistry with
Cliff Ronning
and
Martin Gélinas
, scoring 107 points in his first season with the team. In the
1996 World Cup of Hockey
, Russia were the only team that went undefeated (winning against
U.S.A
(Detroit),
Sweden
(Stockholm),
Finland
(Moscow),
Germany
(Landshut) and tied against
Team Canada
(Calgary). During the U.S.A, Sweden and Finland games the "Bure-Fedorov-Mogilny", line was put together for the first and only time internationally on the senior level, and was considered "perhaps the best forward line on earth" at the time. He would lead the Canucks in scoring again in the
1996–97 season
. A combination of minor injuries, reduced ice time and inconsistent performances saw his production drop to 128 points in 157 games over the next three seasons.
Mogilny was traded to the
New Jersey Devils
for
Brendan Morrison
and
Denis Pederson
on March 14, 2000. The Devils had hopes of him providing offense for the playoffs, on what was primarily a defensive team. Though he struggled, only scoring four goals in 23 games, the Devils won the
Stanley Cup
, which would be Mogilny's first and only NHL championship. Mogilny would regain his form the following season, scoring 83 points, his highest total in five seasons, with a return to the Stanley Cup Finals too, although they lost to the
Colorado Avalanche
in seven games. Mogilny would score 16 points in 25 playoff games.
During the 2001 off-season, Mogilny signed a four-year, $22 million contract with the
Toronto Maple Leafs
and quickly became one of their top players. Mogilny performed well in the post season that year, scoring eight goals, including two goals in each of the Game 7s versus the Islanders and the Senators. Although a third straight Stanley Cup Finals appearance was denied when Toronto lost to Carolina. During 2002-03 Mogilny out-scored Leafs captain Mats Sundin and recorded a hat-trick against Philadelphia in the playoff. He missed most of the following season due to hip-surgery, and then the 2004-05 season was lost due to the NHL lockout. He returned to New Jersey in August 2005 after agreeing to a
US$
7 million deal for two years. After clearing waivers, however, he was assigned to the
Albany River Rats
, the Devils'
American Hockey League
affiliate at the time, in order to make salary cap room for
Patrik Eliás
' return.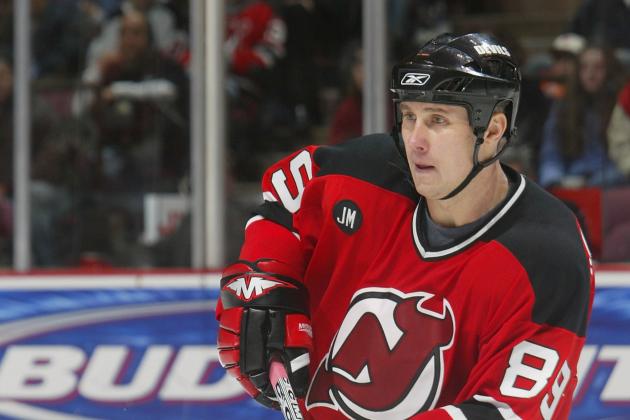 Mogilny was the first player to defect from the Soviet Union in May 1989, the first non-North American to lead the league in goals scored (along with
Teemu Selänne
from Finland), the first Russian to be named to the
NHL All-Star Team
, the first non-North American to be named captain of an NHL team and is (as of the end of the
2013–14 season
) the second
all-time Russian scorer in the NHL
, only behind former linemate
Sergei Fedorov
. Mogilny was the second Russian player to score
1,000 points [473 goals and 1,032 points in 990 games] in the NHL
, reaching the milestone just a few days after Fedorov. He is now currently the president of his home-town team, Amur Khabarovsk in the KHL.
Mats Sundin
:
"He's the best player I've ever played with. He's Gifted, skilled, and a natural hockey player."
Pat Quinn
:
"The most talented player that I have ever coached. Having good size and wonderful skating ability. He can play any kind of game."
Sergei Fedorov
:
"Alex was faster than all of us, [
Bure
and
Fedorov
], and Alex was built like a machine." Plus on top of all the crazy skill he had, he's better than all of us. He's amazing."
Igor Larionov
:
"He was such a talented guy. Really good with the stick, and smart. He was a natural."
18 Sergei Fedorov - [1987-89 Games Played 92 Points 33]
Серге́й Викторович Фёдоров was
born in Pskov and
started his career at
CSKA
in 1986 playing on a famous line with
Pavel Bure
and
Alexander Mogilny
. Fedorov played four seasons there before he was drafted by the Detroit Red Wings in 1990. Later that year, while CSKA was in
Portland
for the
Goodwill Games
, he defected from the Soviet Union, escaping from his hotel room and onto a plane.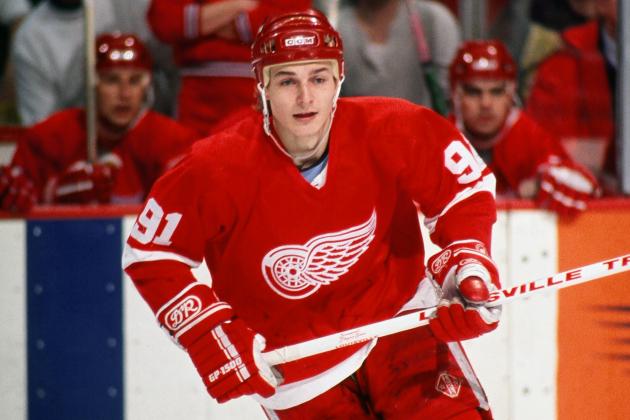 Fedorov signed a free-agent contract with Anaheim for less than the Red Wings offered him after Detroit lost to Anaheim in the first round of the playoffs in 2003. He remained with Anaheim from 2003 to 2005. It was with the Ducks that Fedorov picked up his 1,000th point, becoming the first Russian-born and fifth European-born player to do so. Fedorov was traded to the
Columbus
on November 15, 2005. As a Blue Jacket, Fedorov also played his 1,000th NHL game on November 30, 2005, becoming the 13th European-born player to reach 1,000 NHL games and the 205th player overall to do so. Fedorov was traded to the
Washington Capitals
at the 2008 trade deadline and the following summer, signed a one-year, $4 million contract. In 2008–09, what would become his final season in the NHL, Fedorov passed Alexander Mogilny for most goals scored by a Russian-born hockey player, a record previously held by Mogilny, who scored 473 goals. Fedorov played 1,431 games, scored 535 goals with 820 assists, for 1,355 points.
Steve Yzerman:
"Best skater I've ever seen. I've only seen two other players that can dominate a game like Sergei, and that's Wayne and Mario... in my opinion, he's the best player in the League. He is different than Wayne and Mario because he dominates with his speed, and unbelievable one-on-one moves."
Wayne Gretzky:
"I have never seen a player dominate the game the way Sergei did,
the best player in the game at this point. He was one of my closer friends that played on another team. Actually, the year he won the
Hart Trophy
I think it was, he lived with us for six weeks in the offseason and we trained together and spent a lot of time together".
Mario Lemieux
:
"He was awesome. The way he skates, he's just dominating out there. Especially in the neutral zone, he picks up a lot of speed. You can't defend against that."
Nicklas Lidström
:
"I think he's the best player in the League. He's real tough to defend against. He's got quickness to best you if you step up to him. It's tough to stop him."
Ray Bourque
:
"Sergei is a dominating player, a franchise player. When he makes a move on you, he has the ability to maintain his speed or even go faster. There aren't many defensemen who can keep up with him."
Scotty Bowman:
"[Fedorov was] one of my favorite players as a coach because he can do anything [asked of him on ice]. I talked to Wayne Gretzky about that six or seven years ago and he said to me: 'I couldn't play forward and defence. Mario couldn't do it. Jágr couldn't play defense. But Sergei could. He was a hell of a player. He could have been an all-star defenceman, but he developed his offensive skills. He was the best defenseman in the league for a six-week period".
Jim Devellano
:
"I'm convinced if we left him there, he'd have won a
Norris Trophy
."
[alongside Larry Murphy].
Alexander Ovechkin
:
"He's our leader... He's our best guy in the locker room. He showed it. He's our best guy. He has more experience than anybody in this locker room. He knows how to play like that. He just shows his leadership."
[after scoring the game-winning goal in Game 7 against the New York Rangers] "The best player I've ever played with. He was unbelievable. You put him in every position and he was going to be the best. His hockey sense was unbelievable. His shot and vision, unbelievable."
Jeremy Roenick
:
"He was a horse, bigger than you'd think he was. He could skate, handle the puck like a magician, and check you until you hated him. You didn't get a break when you played centre against Detroit in those days. Today we talk about
Evgeni Malkin
and Alex Ovechkin, but neither of those guys could skate with [Alexander] Mogilny or Fedorov or [Pavel] Bure."
Fedorov returned to Russia in 2009, and played three seasons with
Metallurg Magnitogorsk
. He said that he wanted to fulfill his father's lifelong dream of having his two sons play on the same team. Early in the season, Fedorov scored his 1,500th point in official games. He returned to CSKA on October 9, 2013 playing at that year's Spengler Cup. Just last month, Fedorov was inducted into the
Hockey Hall of Fame
.
He won Gold at the World Championships in 1989 and 1990 and 2008, Silver at the 1998 Olympics and Bronze four years later. In 2001 he famously dated and maybe even married tennis star Anna Kournikova.
Fedorov currently serves as the General Manager of CSKA.
12 Pavel Bure - [1987-89 Games Played 37 Points 28]
Па́вел Влади́мирович Буре́
was born in Minsk, and
nicknamed "The Russian Rocket" for his speed, Bure played three seasons with CSKA, where he was known as "Pasha".
Bure began his professional hockey career at 16, with CSKA and was invited to the senior club's training camp for the 1987–88 season. Although he was deemed too young and not yet ready for the
Soviet League
, Bure earned minimal playing time filling in for absent regulars. He made his debut in September 1987 when the club briefly lost several players to the
1987 Canada Cup
; Bure played in five games that season. He scored his first professional goal for CSKA Moscow while playing on the fourth line in his senior club debut. Bure joined the club full-time in 1988–89 and amassed 17 goals, a Soviet League record for rookies. The record-setting mark stood for 18 years before
New York Rangers
prospect
Alexei Cherepanov
scored 18 goals in 2006–07. Bure added 9 assists for 26 points to earn the league's rookie of the year honours. His individual success helped CSKA Moscow capture their thirteenth consecutive
Soviet championship
and twelfth consecutive
IIHF European Cup
in 1989 (they repeated as European champions the following year). The combination of Bure, Fedorov and Mogilny formed a promising combination for
head coach
Viktor Tikhonov
, with expectations to replace the previous top Soviet line, the K-L-M combination of
Vladimir Krutov
, Larionov and Makarov. The trio was short-lived, as Mogilny
defected
to play for the
Buffalo Sabres
in 1989 and Fedorov joined the
Detroit Red Wings
the following year. In his final season with CSKA, Bure was tied for the lead in team-scoring with
Valeri Kamensky
, tallying 46 points. He would play 127 times for the Red Army team and score 99 points.
Bure's playing style reflected the speed, skill and puck possession that the Soviets held at a premium. The most prevalent aspects of Bure's game were his skating speed, agility, and acceleration, which earned him his nickname as the "Russian Rocket". He was able to use his quickness to separate himself from defenders, to retrieve pucks before the opposition could in all zones of the ice, and to skate coast-to-coast on many occasions. Bure's skating was also complemented by his ability to deke out defenders and goaltenders at top speeds, making him capable of routinely starting end-to-end rushes.
Bure shared a relationship with tennis star and fellow Russian
Anna Kournikova
. The two met in 1999 when Kournikova was still linked to Bure's former Russian teammate
Sergei Fedorov
. Bure and Kournikova were reported to have been engaged in 2000 after reporter Andrew Greven took a photo of them together in a
Florida
restaurant where Bure supposedly asked Kournikova to marry him. As the story made headlines in Russia, where they were both heavily followed in the media as celebrities, Bure and Kournikova both denied any engagement. Kournikova, 10 years younger than Bure, was 18 years old at the time. The following year, Kournikova and Fedorov were married in Moscow. Bure married 23-year-old model Alina Khasanova on October 10, 2009. During Bure's career, there were rumors he had ties to the
Russian mafia
. Bure was reported to have made payments worth thousands of dollars to Russian extortionists in 1993.
While
in 1996, he was allegedly friends with Anzor Kikalishvili, a suspected criminal and Russian mob boss.
11 Evgeny Davydov - RW - [1987-89 Games Played 79 Points 39]
Starting out with hometown team Traktor Chelyabinsk in 1984 before moving to CSKA two seasons later, Davydov has had a chequered past. On January 4, 1987, Davydov was playing for the Soviet Union at the 1987 World Junior Championship. In the infamous Punch-up in Piestany, Davydov was identified as the player who jumped the boards and caused a bench-clearing brawl. Both teams were ejected from the tournament and Canada lost an assured medal. Davydov recorded 120 points in 238 games.
Davydov was drafted 235th overall by Winnipeg in the 1989 NHL Entry Draft. After winning a gold medal as a member of the Unified Team at the 1992 Winter Olympics, he joined the Jets and went on to play in 155 regular season games, scoring 40 goals and 39 assists for 79 points, picking up 120 penalty minutes over two seasons. He moved on to Florida for the Panthers inaugural NHL season in 1993, but after 21 games moved to the Ottawa Senators. With the NHL lock-out shortening the 1994-95 season Davydov only had 3 further games in Ontario before embarking on a nomadic end to his career. San Diego Gulls and Chicago Wolves of the IHL were calling points before a return to Europe.
Between 1995 and 2003, Davydov had spells in France [HC Amiens], Sweden [Brynas IF & Olofstroms IK], Switzerland [EHC Olten & EV Zug], Finland [Karpat], Germany [Berlin Capitals] and Italy [HC Milano] as well as a return to Russia at Ak Bars, Krylya Sovetov Moscow and Velkom Moscow before hanging up his skates in 2004.
CSKA: 238 GP 120 pts NHL 155 GP 79 pts. Olympic Gold 1992.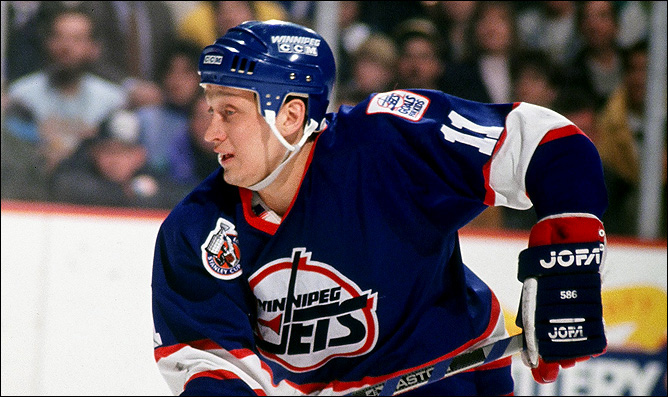 29 Igor Chibirev - C - [1987-89 Games Played 60 Points 22]
Born in Kiev, Ukrainian Center,
Chibirev began his career in the
Vysshaya Liga
for
SKA Kalinin
in 1986 before moving to
CSKA a year later
. After five seasons with the Red Army and a spell with
the
Fort Wayne Komets of the IHL and Springfield Indians of the AHL
, Chibirev was drafted 266th overall by the Hartford Whalers in the
1993 NHL Entry Draft
and played 45 games, scoring 7 goals and 19 points over two seasons. Three of those goals came in an 8-4 Hartford road win over the
Pittsburgh Penguins
on April 5, 1995. Later that year, he moved to
HC Ambri-Piotta
of Switzerland and spending three seasons there, which included a short spell in
Austria
with
EC Klagenfurt
. Chibirev later moved to
HC Fribourg-Gottéron
for one season before moving to
th
e
DE
L with the
Hannover Scorpions
where he remained until his retirement in 2002. He represented
Ukraine
at the
2002 Winter Olympics
.
CSKA: 176 GP 83 pts NHL 45 GP 19 pts.
27 Pavel Kostitshkin - RW - [1987-89 Games Played 71 Points 14]
Moscow-native, Kostitshkin started playing for CSKA in 1985 and stayed there until 1992. Posting 162 games and 44 points. He spent the 1992-93 season with the Moncton Hawks of the AHL before stints in Denmark and Finland [Kiekko Espoo], before ending his career in 1999 with Russian team Khimik Voskresensk.
23 Mikhail Vasilyev - RW - [1987-89 Games Played 32 Points 15]
Made his debut with CSKA in 1979 and spent 10 seasons there recording 241 games played and 146 points. He spent the 1989-90 & 1994-95 seasons with Torpedo Yaroslavl before stints in Italy with Varese HC [2 seasons] and Bolzano HC [5 seasons]. He retired in 2001.
10 Valeri Zelepukin - LW - [1987-89 Games Played 36 Points 9]
Born in Voskresensk, Zelepukin began his career in 1984 with his local side Khimik Voskresensk. After 3 years he dropped down a league to play for Kalinin SKA MVO, but moved on to CSKA for 1987. During his two seasons there he played a bit-part role, playing 36 games and bagging 9 points. In 1989 he returned to Voskresensk before being
drafted by New Jersey in 1990 [11th Round, 221st Overall]. Zelepukin moved to North America in 1991 splitting his time with New Jersey and their AHL affiliate in Utica. During his Seven seasons in East Rutherford, Zelepukin won a Stanley Cup [1995] and scored his most important and famous goal when he tied game 7 of the 1994 Eastern Conference Finals with 7.7 seconds remaining against the New York Rangers. During the 1997-98 season he moved to Edmonton, playing 33 games before turning out for the Philadelphia Flyers [1998-00]. From there he spent the next two years with the Norfolk Admirals of the AHL sandwiching a brief stint of 36 games with the struggling, Chicago Blackhawks. He returned home to Russia in 2002, spending one year with Ak Bars, two with SKA and then his final season with Khimik Mytishchi [Now Atlant]. He retired in 2006.
NHL 595 GP 294 pts 527 PIMs.
25 Alexander Zybin - LW - [1987-89 Games Played 19 Points 11]
Made his CSKA debut in 1978, and was a regular in the side until 1987. Between 1981-1985 Zybin made 151 appearances and bagging 80 points. His ice time was limited during the 1987-88 season and was traded to Torpedo Yaroslavl at the start of the next season. In 1990 he moved on to Vienna and then Essen the following year before moving to SKA in 1992. The next season he spent in Italy before spending two further years in Yaroslavl and then another two back at SKA. Zybin ended his career with CSKA before retiring in 2000.
22 Sergei Osipov - LW - [1987-88 Games Played 15 Points 3]
Osipov began his career with Avtomobilist Sverdlovsk in 1984, before joining CSKA two years alter. The 1987-88 season proved to be his final one with the Red Army, but moved on to have a relatively successful career elsewhere. He spent one year back at Sverdlovsk before moving to Metallurg Magnitogorsk in 1992, where he remained until his retirement in 2004.
14/22 Igor Vyazmikin - LW - [1987-89 Games Played 38 Points 18]
Born in Moscow, Vyazmikin began his career with CSKA in 1983 and stayed for the next six seasons. He moved to Khimik Voskresensk in 1989, before moving to North America. He was drafted by Edmonton in 1987 and eventually made 4 appearances for the Oilers during the 1990-91 season. After playing games in the North American minor leagues, Vyazmikin returned to CSKA for one season [1997-98], before ending his career with Severstal the following year. Sadly Vyazmikin died in 2009 after a battle with illness.
12 Alexander Gerasimov - F - [1987-88 Games Played 11 Points 6]
Spent just eight seasons with CSKA, beginning in 1980 and last played in 1988.
26 Andrei Kovalenko - RW - [1988-89 Games Played 10 Points 1]
Started his career in 1987 with Torpedo Gorky, before moving to CSKA. He stayed with the Red Army until 1992, when he moved to the Quebec Nordiques. Kovalenko, was drafted by Quebec in 1990 and stayed with the franchise after they moved to Denver, but was traded to Montreal before the Avalanche lifted the Stanley Cup later that year. He was part of the deal that saw Patrick Roy and Mike Keane join Colorado. His career had a few milestones; he scored the last goal at the Montreal Forum [a 4-1 win over Dallas in 1996], and the first at the RBC Center for the Carolina Hurricanes in 1999. After half a season for the Canadien's Kovalenko moved to Edmonton [1996-99], then Philadelphia for 13 games before joining the Hurricanes. His last season was in the NHL [2000-01] was spent with the Boston Bruins before he headed back to Russia. Kovalenko had three years with Lokomotiv Yaroslavl [2001-04], then Avangard Omsk [2004-06], before ending his career with Severstal in 2008. He was nicknamed 'The Tank' by his teammates due to his immovable presence from the goal crease. In total Kovalenko played 680 games in the NHL and scored 379 points.
25 Alik Gareyev - F - [1988-89 Games Played 8 Points 2]
Aside from eight games with CSKA in 1988-89, Gareyev spent almost his entire career with Salavat Yulayev Ufa. Between 1992-02 he was a regular scorer for that side, and after a year away with Molot Perm [2002-03] he ended his career back in Ufa during the 2004-05 season.
12/26 Stanislav Panfilenkov - RW - [1987-89 Games Played 9 Points 1]
Played the first two seasons of his career with CSKA between 1987-89. He moved on to Krylja Sovetov, but lasted just one year with the old 'Soviet Wings' team, before turning out for Torpedo Nizhny Novgorod between 1990-92, after that his career seemed to wind down and last played for Lada Tolyatti in 1994.
13 Andrei Vinogradov - RW - [1987-88 Games Played 3 Points 1]
Made his debut with CSKA in 1984, but only made 15 appearances for the Red Army over four years and so moved on to City rivals Spartak in 1989. He last played there in 1992.
12 Andrei Skabelka - RW - [1988-89 Games Played 2 Points 0]
Skabelka's debut season was in 1988-89, but never made the grade and moved home to Minsk [1992-95]. He then saw ice time at Torpedo Yaroslavl [1995-98], Ak Bars [1998-99], Lada [1999-01], Salavat Yulayev Ufa [2001-04] and Sibir [2004-05]. Skalbelka coached the Novosibirsk-based side to last season's KHL play-off conference finals, and is now working as an assistant coach at Torpedo Nizhny Novgorod. He also coached Belarus during the 2013 World Championships.
27 Alexander Kuzmin - [1988-89 Games Played 2 Points 0]
Played just two senior games for CSKA.
29 Denis Vinokurov - LW - [1988-89 Games Played 1 Points 0]
Began playing with CSKA in 1988 and stayed there until 1996. He played his final season with SKA [1997-98].
28 Egor Bashkatov - [1988-89 Games Played 1 Points 0]
The Moscow native made his CSKA debut in 1988 but after just two seasons with the Red Army, went on a hockey journey which took in stints with Yaroslavl [1991-94], the North American minor-leagues [Detroit, Utah, Houston & Las Vegas 1994-97], Vienna [1997-99] and Hannover in the DEL [1999-02] before returning to Russia with SKA [2002-04], Severstal and Amur. he even returned to CSKA for 25 games in 2005-06. He went back to Germany in 2006-07 [Duisburg Foxes], but ended his career with Amur in what was the inaugural season of the KHL. During his stint in North America in the mid-1990s he even played in the Roller Hockey League for a couple of years.
2 Viacheslav Fetisov -
[1987-89 Games Played 69 Points 52]
"Slava"
Вячеслав Александрович Фетисов was born in Moscow and
debuted for

CSKA

's junior team at sixteen years old. He joined the senior team in 1978–79 staying for 13 seasons, and recorded 29 points in 29 games as a rookie. In his fourth season, Fetisov reeled off 41 points in 46 games to be named the 1982 USSR Player of the Year. Four seasons later, he won his second Player of the Year recognition after a 34-point season in 1985–86.
While with Detroit, he played alongside

Mike Ramsey

, who was one of his opponents in the

Miracle on Ice

game at the

1980 Winter Olympics

. Fetisov scored 14 points in 14 games after the trade, and helped the Red Wings to the

1995 Stanley Cup Finals

, where they lost to his former team, the Devils. The following season, Fetisov matched his career high in points with 42-points in

1995–96

. He was named to his first

NHL All-Star Game in 1997

, then won back-to-back

Stanley Cups

with Detroit in

1997

and

1998

, before announcing his retirement. He took the Stanley Cup to

Moscow

after the 1997 championship, where the trophy appeared for the first time in Russia.
Fetisov became an assistant coach with the New Jersey Devils following his playing career and won the Stanley Cup with the club in 2000 during his three-year tenure (1998–2002). Following that he was named general manager of the Russian national team for the

2002 Winter Olympics

in

Salt Lake City

, where Russia won bronze. He was succeeded as general manager by

Pavel Bure

for the

2006 Winter Olympics

in

Turin

. On 29 March 2005 Fetisov joined the

World Anti-Doping Agency

's Athlete Committee as its inaugural chairman. In 2009, he became president of

CSKA

. Nearly eleven years later after his retirement, Fetisov came out of retirement at the age of 51 to play for CSKA in a one-game return on 11 December 2009. Head coach

Sergei Nemchinov

turned to Fetisov, president of the club, in need of a replacement for injured defenseman

Denis Kulyash

. CSKA Moscow lost the game 3-2 to SKA.
On the international stage, Fetisov is one of the most decorated players ever. As a junior, Fetisov competed for the

Soviet Union

at the

European Junior Championships

, where he won Top Defenseman honors during the 1975–76 season, en route to two consecutive gold medals at the tournament. He then helped the Soviets to three consecutive gold medals at the

World Junior Championships

from

1976

to

1978

, taking back-to-back Top Defenseman honors in

1977

and 1978. With the

Soviet national team

, Fetisov won two gold medals (

1984

,

1988

) and one silver medal (

1980

) at the

Olympics

. At the

World Championships

, Fetisov won seven golds (

1978

,

1981

,

1982

,

1983

,

1986

,

1989

,

1990

), one silver (

1987

), and three bronzes (

1977

,

1985

,

1991

). Fetisov also won one

Canada Cup

in

1981

. At the

2002 Olympics

, he was head coach of the

Russian national team

, winning the bronze. Fetisov and team mate

Igor Larionov

, along with

Scott Niedermayer

and

Joe Sakic

, are the only players to win the "Grand Slam of Ice Hockey", winning the Stanley Cup, World Ice Hockey Champions, Ice Hockey at the Winter Olympics, World Ice Hockey Junior Championship, and Canada/World Cup Championship.
Fetisov has been awarded the

Order of the Red Banner of Labour

in 1984, the

Order of Lenin

in 1988, the

Order Of Service To The Fatherland

4th class in 2000 and 3rd class 2005, the

Order Of Honour

in 1998, the Order of Friendship in 2007, and two

Orders of the Badge of Honor

. On October 22, 1981, Russian astronomer

Nikolai Chernykh

discovered a

main-belt asteroid

from the

Crimean Astrophysical Observatory

in

Ukraine

. The asteroid was named the

8806 Fetisov

after Fetisov.
In North America, Fetisov was elected to the

Hockey Hall of Fame

on 12 November 2001 along with

Mike Gartner

,

Dale Hawerchuk

and

Jari Kurri

. Internationally, he has been recognized by the IIHF in the

International Centennial All-Star Team

. He received the most votes out of all players in a poll conducted by a group of 56 experts from 16 countries (54 of which voted for Fetisov) to assemble the historic squad.
In June 1985, Fetisov was involved in a car accident that killed his younger brother Anatoly, who was 18 years old at the time and a prospect within the CSKA system. Twelve years later, following a private party on 13 June 1997 Fetisov, along with teammate

Vladimir Konstantinov

and team masseur Sergei Mnatsakanov, hired a limousine to drive them home after celebrating the

Detroit Red Wings

' Stanley Cup triumph. The driver, Richard Gnida, whose license was suspended at the time for drunk driving, lost control of the limousine and hit a tree on the median of Woodward Avenue, in Birmingham, Michigan, a suburb north of Detroit. Konstantinov spent several weeks in a coma before finally pulling through. He also suffered from serious head injuries and paralysis, while Fetisov escaped with relatively minor injuries and was able to play the following season. Mnatsakanov sustained heavy head injuries and also spent some time in a coma. He has had a considerably more difficult recovery than Konstantinov.

The driver was charged with and convicted of driving with a suspended license
CSKA 477 games played 373 points. NHL 546 games played 228 points.
6 Alexei Kasatonov - [1987-89 Games Played 84 Points 42]
Алексей Викторович Касатонов was
born in

Leningrad and b

egan his career with home-town club SKA in 1976 and stayed there for 2 seasons, before moving to CSKA in 1978, forming a great blue line partnership with Fetisov. Kasatonov stayed at CSKA until 1989, playing 487 games and netting 304 points. After a serious falling out with Fetisov, Kasatonov ended up partnering his former friend at New Jersey [1989-93] before he moved on to Anaheim. He was one of their first ever players as he joined the Mighty Ducks during their inauguaral season but after 55 games moved on to St Louis (8 games) before ending his NHL career in Boston [1994-96]. After retiring from the NHL in 1996, following a shoulder injury in an AHL game for the Providence Bruins, Kasatonov returned to play one last season for CSKA. Due to the severity of the injury his playing days were now behind him and instead returned to New Jersey with his family. He became the general manager of the 1998 Russian Olympic Team that won the Silver in Nagano. He moved on to coach his son and youth hockey in the Tri-State area, running his own weekly clinics in Staten Island for 7 years. In 2003 Kasatonov founded the Admirals Hockey Club which at its peak had 5 teams ranging from Squirts to Juniors. In 2004 Kasatonov accepted the Head Coaching position at Columbia University, but moved back to Russia in 2008 for a Head Coaching position at

PHC Krylya Sovetov

. Two years later Kasatonov became Vice President of CSKA before taking the Vice President and General Manager job at SKA in 2011. NHL 383 GP 160 pts.
16 Vladimir Konstantinov - [1987-89 Games Played 87 Points 24]
Владимир Николаевич Константинов was
born in Murmansk and
was drafted 221st overall in
1989
by the Detroit Red Wings, after impressing a Red Wings
scout
at the
1987 World Junior Championships
, where a
brawl
broke out in the USSR/Canada game. Scout
Neil Smith
remembers, "He was the only one of the Russians who fought back." Probably the most notable aspect of his hockey career was his aggressive style, specializing in getting opponents off their game. "For my game," he explained, "I don't need to score the goal. I need someone to start thinking about me and forgetting about scoring goals." Konstantinov's aggressive style of play also earned him the nickname "Vladinator". During that final game of the 1987 World Junior Ice Hockey Championships between Canada and the Soviet Union, a
bench-clearing brawl
known as the
Punch-up in Piestany
took place. The fight is famous for officials having turned off the arena lights in a desperate attempt at ending the 20 minute melee. During the fight Konstantinov leveled a
head-butt
that broke
Greg Hawgood
's nose. As a result of the brawl, both teams were disqualified from the tournament. He won gold at the World Championships in 1986, 1989 & 1990. He won gold at the World Championships in 1986, 1989 & 1990. He won gold at the World Championships in 1986, 1989 & 1990.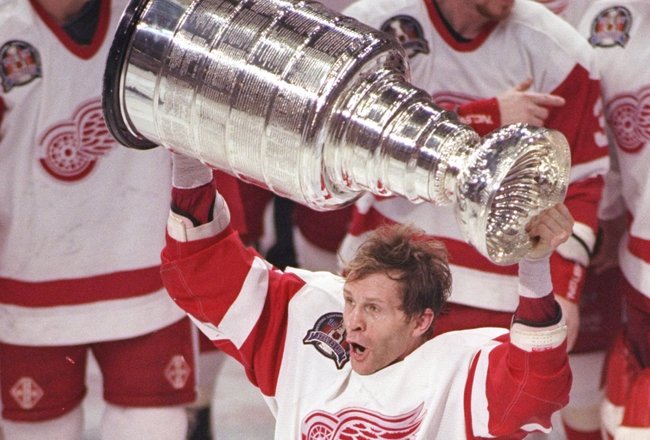 5 Alexei Gusarov - [1987-89 Games Played 81 Points 14]
Алексей Васильевич Гусаров
was born in Leningrad Gusarov and began his career with his local side SKA in 1981. After 3 seasons he signed for CSKA where he stayed until 1991. He was a veteran of the Soviet national team before playing in the NHL with Quebec in 1991 and stayed with the franchise as they moved to Denver, winning a Stanley Cup with the Colorado Avalanche in 1996 alongside Valeri Kamensky.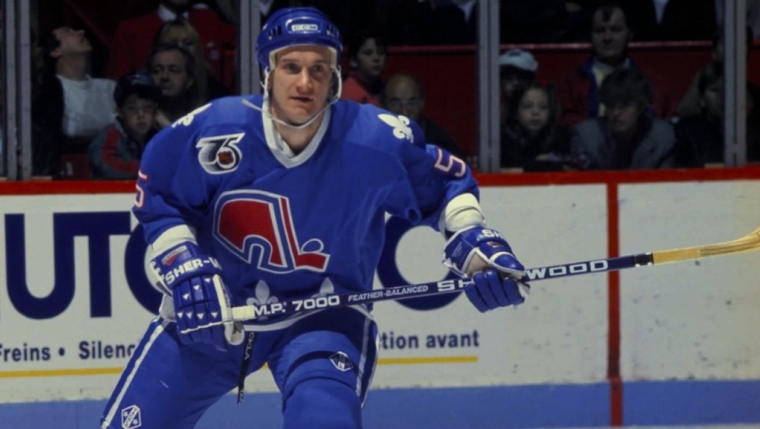 He is a member of the Triple Gold Club, having won the 1989 IIHF World Championship, the 1996 Stanley Cup, and the Olympic gold medal in 1988. Gusarov was selected 213th overall by Quebec Nordiques in the 1988 NHL Entry Draft and is considered to be one of the finest Russian defensemen to play in the NHL. He left Colorado in 2000, playing 26 games with the New York Rangers and 16 with the St Louis Blues. In total he played 607 NHL games scoring 167 points along the way. After his playing career ended Gusarov retired to Colorado where he started coaching the AAA hockey club Evolution. Gusarov now serves as the geneal manager of a professional hockey team in Russia.
7 Vladimir Zubkov - [1987-88 Games Played 48 Points 10]
Began his career in 1978 with Spartak, before moving to CSKA in 1981. He left after the 1987-88 season to play in France before he retired in 1996.
7 Vladimir Malakhov - [1988-89 Games Played 34 Points 8]
Владимир Игоревич Малахов
was born in Sverdlovsk and
started his career with Spartak in 1986, and had two seasons before signing with CSKA in 1988. He was drafted by the New York Islanders in the 1989 NHL Entry Draft, but stayed with the Red Army until 1992, before eventually linking up with the side from Uniondale. After three seasons with the Islanders, including playing in the 1993 playoff run which eliminated the reigning-champion Pittsburgh Penguins, Malakhov moved to Montreal. He would play with the Canadiens between 1995-99 until he was traded to the New Jersey Devils. He only played 17 regular season games plus 23 post-season ones, but was on the same team as Alexander Mogilny as they clinched the Stanley Cup. The next three years were spent across the Hudson River with the Rangers, as he had the distinction of playing for all three NY/NJ area teams. He would have a short stint in Philadelphia before ending his career back with New Jersey in 2006. On December 19, 2005, reports surfaced that Malakhov, who joined the Devils for the second time, had unexpectedly retired from the NHL. However, shortly after the story broke, his agent claimed that Malakhov had not retired and was taking a leave of absence "to deal with some internal, personal and medical issues." This claim was disputed by Lou Lamoriello, Devils CEO, president, general manager, and interim head coach. Lamoriello rejected the request for a leave of absence and treated Malakhov's absence as a retirement. This marked the end of Malakhov's pro career. During his career, Malakhov won Olympic Gold in 1992 and 2002, and played in 787 NHL games, recording 761 points.
4 Igor Kravchuk - [1987-89 Games Played 69 Points 16]
Started with Ufa in 1982, and stayed there until 1987 when he joined CSKA. He was drafted by Chicago in 1991 and played with the Blackhawks for two years. He even played 18 play-off games in his debut NHL season, as the Hawks were defeated by Mario Lemieux's Penguins. The following season he moved to Edmonton and then joined St Louis for a season and a half [1995-97]. Ottawa signed him ahead of the 1997-98 season and stayed with the Senators until 2000. He played 115 games with Calgary before ending his career with Florida in 2002-03, where Valeri Bure and Viktor Kozlov were his teammates. Kravchuk played 750 games scoring 70 goals and 225 assists for 295 points and 269 PIMs. He won Olympic Gold in 1992. He was also a part of Canadian Hockey folk lore. During the final game of the 1987 Canada Cup series, the just-turned 21 year old, was the lone defenseman facing a 3-on-1 as Mario Lemieux, Wayne Gretzky and Larry Murphy skated in on Soviet goalie, Sergei Mylnikov. Lemieux scored the game and series winning goal at 18:34 of the third period.
21 Igor Stelnov - [1987-89 Games Played 72 Points 10]
Stelnov played with CSKA between 1981-1991 where he was a mainstay on the blue line. He was inducted into the Russian/Soviet Hockey Hall of Fame in 1984, and won 8 USSR championships with CSKA. Stelnov won Olympic Gold in 1984 and 1988 and gold at the 1986 and 1987 World Championships. After a few seasons away he returned to the Red Army for his final season in 1997-98. Stelnov sadly died in 2009 after a long illness.
28 Igor Malykhin - [1987-89 Games Played 80 Points 4]
Spent his debut season [1986-87] with home town team Dynamo Kharkov in Ukraine. Malykhin joined CSKA the following year, and made 189 appearances over the next five seasons. He went on to play in the North American Minor Legaues before a season in Germany with the Kassel Huskies [1997-98]. He ended his career in 2002-03 with the 'Soviet Wings'.
3 Sergei Starikov - [1987-89 Games Played 68 Points 19]
After starting his career with Traktor in 1978, he left the Chelyabinsk-based side to join CSKA a year later. He would stay with the Red Army until 1989 when he moved to the NHL to play with the New Jersey Devils, alongside CSKA team mate Viacheslav Fetisov. His second season in America saw him play mainly for the Devils AHL affiliate in Utica and then end his career in San Diego in 1993.
10 Sergei Selyanin - [1987-88 Games Played 21 Points 2]
Selyanin started with Sibir, in his hometown back in 1983-84. He first arrived at CSKA in 1985 but began the 1987-88 season with Khimik Voskresensk, playing 11 games there before returning to CSKA. He would be back with Khimik at the start of the next season and would stay there until 1993. Selyanin had one last season with CSKA in 1993-94 and would end his career in 1997 with his first team in Novosibirsk.
13 Dmitry Kamyshnikov - [1987-89 Games Played 11 Points 1]
Began with SKA MVO Kalinin in 1986, and Moved on to CSKA the following season. Ended his career with Elektrostal Kristall in 1998.
32 Sergei Zubov - [1988-89 Games Played 29 Points 5]
Сергей Зубов was born in Moscow and started playing for CSKA in 1988. Zubov was drafted by the New York Rangers 1990, although he continued to play for the Red Army until 1992. Although Sergei spent some of his rookie season with New York's AHL affiliate, the Binghamton Rangers, he played forty-nine games as a rookie for the Rangers, scoring 31 points, considered then to be above-average for a defenseman. Zubov's high-scoring ways continued, as he scored 12 goals and earned 77 assists during the 1993–94 season, which led the team in regular season scoring. He contributed 19 points to the Rangers' playoff campaign, as he, along with Alexander Karpovtsev, Sergei Nemchinov, and Alexei Kovalev became the first Russians to have their names engraved on the Stanley Cup. Zubov continued to play well for the Rangers, but on August 31, 1995, he was traded to the Pittsburgh Penguins with Petr Nedvěd for Ulf Samuelsson and Luc Robitaille. Zubov only spent one season in Pittsburgh, probably because he and team captain Mario Lemieux didn't get along, especially on the powerplay where both men wanted to be in control. Ultimately, he was traded to the Dallas Stars on June 22, 1996 for Kevin Hatcher.
Although Zubov never again reached the scoring height of his 1993–94 season with the Rangers, due to a combination of Dallas's more defensive system and decreased scoring in general, he has earned all three of his trips to the All-Star game with the Stars. He never again reached an 80+ point total, but had 11 consecutive years of 40+ point seasons and 30+ assists. Zubov won his second Cup with the Stars in 1999 and played in the Stanley Cup finals again in 2000 where he came up against Malakhov and Mogilny. He was excellent defensively and while he has a well-sized body, he was known more for his positioning and puck-dislodging abilities out of corners rather than his checking abilities.
Zubov has always played a solid game, but for years went under the radar and did not garner any nominations for the NHL awards or the NHL First/Second All-Star teams. However, in the 2005–06 regular season, Zubov posted 71 points for his highest outing in over a decade, and also received his first Norris Trophy nomination. On July 30, 2009, he decided to leave Dallas and signed a contract with SKA St. Petersburg of the KHL. He was also selected as a reserve by Russia for the 2010 Winter Olympics. He eventually retired in 2011 due to hip-related injury problems. He is the current interim head coach of SKA St. Petersburg and a defensive assignment coach for the Russian national hockey team. In 1992, Zubov won a gold medal at the Winter Olympics, playing for the so called 'Unified Team'. He is also the NHL's all-time leading scorer among Russian defensemen, and the all-time leading scorer among defensemen in the history of the Stars franchise. He played over 1,000 games in the NHL [1,132] and recorded 888 points.
30 Igor Ivanov - [1988-89 Games Played 16 Points 2]
Made his debut in 1988, where he made 30 appearances in two years. In 1990 he moved to Krylja Sovetov and stayed there until 1995. He then moved to Austria to play for AC Klagenfurt, with a brief spell in Germany, and retired in 2007.
3 Boris Mironov - [1988-89 Games Played 1 Points 0]
Борис Олегович Миронов was
born in Moscow and is the younger brother of Dmitri Mironov.
1 Alexander Tyzhnych - [1987-88 Games Played 22]
After joining CSKA in 1976, Tyzhnych served as Vladislav Tretiak's back-up until the Soviet great retired in 1984. By 1988 he had fallen out of favour and moved to Ufa first and then Cape Breton Oilers where he retired in 1991.
30 Alexei Chervyakov - [1987-88 Games Played 22]
After making his debut in 1984, Chervyakov split his first two season between Torpedo Yaroslavl and Spartak Moscow. He moved on to SKA MVO Kalinin in 1986 and stayed there until 1988, with 22 appearances for CSKA in-between. He finished his career with Khimik Voskresensk in 1991.
20 Evgeny Belosheiken - [1987-89 Games Played 24]
Spent his debut season with SKA during 1983-84. He moved on to CSKA for his second season where he remained until 1989. After 100 appearances for the Red Army he moved to Cape Breton Oilers of the AHL in 1991-92.
30 Valeri Ivannikov - [1987-88 Games Played 2]
Began his career with Traktor in 1984 and arrived at CSKA ahead of the 1987-88 season, but he was traded to SKA mid-season after only 2 games. He stayed in St Petersburg until 2003.
30 Alexei Ivashkin - [1988-89 Games Played 23]
Played 48 games for CSKA between 1988-91. Ended his career with Vityaz in 2001.
1 Leonid Gerasimov - [1988-89 Games Played 5]
Started with Traktor in 1978 where he played for three seasons. He moved on to Khimik Voskresensk, where he stayed until 1988. Played the final five games of his career with CSKA.
22 Max Mikhailovsky - [1988-89 Games Played 5]
After making 5 appearances in his debut season of 1988-89, Mikhailovsky stayed with CSKA until 1991. He moved to North America, playing for several teams in the Minor Leagues. He returned to CSKA in 1998, before stints with Lada, Severstal and Torpedo Nizhny Novogorod.
31 Konstantin Bakhutashvily - [1988-89 Games Played 1]
Played just a single game in his pro-career.
Viktor Tikhonov
Виктор Васильевич Тихонов was born in Moscow on 4 June 1930 and played as a defenceman with VVS Moscow [Team of the Soviet Air Forces] and Dynamo Moscow. He scored 35 goals in 296 games in the Soviet elite hockey league from 1949 to 1963, winning four national championships [three times with
VVS
(1951–1953) and once with Dynamo, 1954]. He also won the USSR Cup in 1952 while with
VVS
. In 1950, he became a Soviet Sports Master, and his coaching career started in 1964 when he became an assistant coach for Dynamo Moscow, before taking the position of Head Coach at Dynamo Riga in 1968. In 1973, he was named a
Latvian merited sports coach
(ZTR SSSR). In 1977 he became the Head Coach for both CSKA Moscow and the Soviet National Team.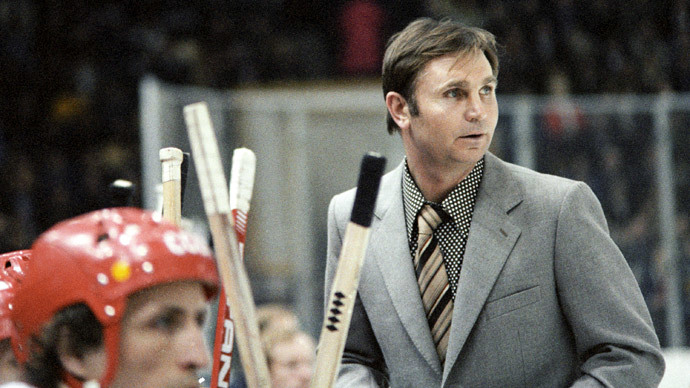 In 1978, he became a
Soviet Merited sports coach
(ZTR SSSR). He was the Soviet and later CIS and Russian National Team coach until 1994, and the coach for CSKA until 1996. He became coach of the Soviet team when it was the dominant team in the world, winning eight World Championship gold medals, as well as Olympic gold in 1984, 1988, and 1992. Tikhonov led CSKA Moscow to twelve consecutive league championships. He also coached the Soviet team that lost to the United States, 4-3, in the 1980 Olympic medal round game known as the Miracle on Ice. He was named to the IIHF Hall of Fame as a builder in 1998.
Tikhonov was known for his dictatorial coaching style. He exercised nearly absolute control over his players' lives. His teams practiced for 11 months a year, and were confined to barracks throughout that time. CSKA was literally part of the Soviet Army during the Soviet era, and Tikhonov was a general. Tikhonov's fear of defections since the late 1980s was supposedly so great that he cut players when he thought they might defect. In 1991, for instance, he cut Pavel Bure, Valeri Zelepukin, Evgeny Davydov, and Vladimir Konstantinov just before the 1991 Canada Cup. All of them had been drafted by NHL teams, and Tikhonov might have thought that they might defect if they were allowed to go to the West, just like Alexander Mogilny and Sergei Fedorov.
After the dissolution of the Soviet Union, Tikhonov mellowed his style considerably. After his retirement, Tikhonov lobbied the Russian government for more attention and better financing for the national team. Tikhonov was hospitalized in late October 2014
and died after a long illness in Moscow on 24 November 2014, at the age of 84. Viktor's grandson, also named Viktor Tikhonov, was also a hockey player, spending four seasons playing for SKA of the KHL, while currently he is with the Chicago Blackhawks in the NHL.
12 straight Soviet titles (1978–1989)

World Championship gold in 1978–1979, 1981–1983, 1986, 1989, 1990.

Olympics gold in 1984, 1988, 1992; silver in 1980.

1979 Challenge Cup and 1981 Canada Cup.

Order For Merit to the Fatherland, 3rd class (20 December 1996) - for services to the State and outstanding contribution to the development of national hockey

Order of Honour (3 June 2000) - for outstanding contribution to the development of national hockey

Order of Friendship (June 2010) - for outstanding contribution to the development of national sport

Order of Lenin (1983)

Order of the October Revolution (1988)

Order of the Red Banner of Labour (1978)

Order of Friendship of Peoples (1981)

Medal "For Distinguished Labour" (1999)

Medal "For Military Valour", 1st class

Chevalier of the Olympic Order

IIHF Hall of Fame (1998)